Missing Hollie McClymont: Police continue to search for teen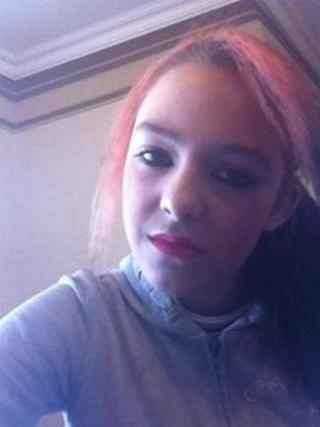 A team of 40 police officers are involved in the search for a 14-year-old girl from Scotland who was last seen in the sea off the south Wales coast.
Police said efforts to find Hollie Jamie-Lee McClymont continued on land and sea.
The schoolgirl was reported missing at Barry Island after 15:45 BST on Sunday.
Acting Supt Marc Lamerton told a press conference that Hollie's family were obviously "distraught".
There have been no further confirmed sightings of her since she was last seen getting into difficulty in the sea.
The senior officer said underwater search teams and a police helicopter were involved in the hunt for Hollie who had been visiting family in the area with her mother Sarah.
"We are being pragmatic and hopefully we will be able to bring this to a happy resolution," said Mr Lamerton.
"As you can imagine, her family are distraught - both those visiting from Glasgow and those living in Barry.
"Hollie has visited the area before but at this point there is nothing to suggest there is anyone else involved.
"Our main priority is the safe return of Hollie. We appeal to her from anyone who saw her in the water."
The sea search by coastguards has been suspended while police continue their work.
Mr Lamerton said: "We have 40 officers working on this including specialist search teams trained to work underwater and the force's helicopter.
"We also have CID and uniformed officers working closely with Hollie's friends and family.
"We are actively pursuing all lines of inquiry as with any missing person. We are keeping an open mind."
On Monday her cousin Shannon said: "You never ever think something like this will happen to someone in your family.
"We're worried sick and really hope Hollie turns up safe and sound."
The incident was reported an hour after Hollie was last seen to a police community support officer on Sunday who was patrolling Barry Island.
Swansea Coastguard rescue manager Steve Jones said teams had been "dumbfounded" at the delay.
He added: "If you see someone in difficulty in the water you should call 999 and ask for the coastguard immediately. Any delay means vital search and rescue time is lost.
"Occasionally the coastguard receives false alarms when somebody who appears to be in difficulty does not need help, but we would rather you call 999 anyway if you are genuinely concerned about a situation."
Hollie is described as white, 5ft 7ins tall, of average build with long black hair dyed red.
She was last seen wearing a multi coloured floral dress, which is short at the front and longer at the back.
The search on Monday involved Barry and Penarth coastguard teams, police officers and the force helicopter.
But by the evening Swansea Coastguard confirmed it had concluded its search.
Anyone with information is asked to contact officers on 101.