Stafford Hospital scandal: NHS problems in Wales 'vigorously' tackled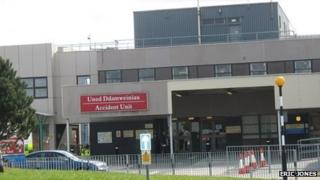 Problems in the Welsh NHS are being "vigorously" tackled to help avoid a repeat of the Stafford Hospital scandal in which patients died needlessly, says the health minister.
The NHS in north Wales has faced strong criticism from watchdogs and staff over its performance and reorganisation.
Mark Drakeford said the system in Wales had exposed concerns "very quickly".
It follows the Welsh government's response to the Stafford inquiry which found neglect contributed to deaths.
The Francis inquiry into failings at Mid Staffordshire NHS Foundation Trust between 2005 and 2008 showed there were between 400 and 1,200 more deaths at the hospital than would have been expected.
It was blamed on a culture of post-cutting and target-chasing ahead of the quality of care delivered.
Mr Drakeford told BBC Radio Wales: "Certainly Francis is right to say that we need strong leadership in the health service, we need well-equipped and effective managers and we need strong clinical leadership too.
He said the Welsh government was "strengthening the leadership in north Wales for the board and executive level".
"Let me just say in relation to Francis and north Wales that the key thing for patients to be aware of is that the problem in mid Staffordshire was not simply that standards of care were not what they should be, but that nobody appeared to notice that things were going wrong.
"And although there are problems in north Wales which we are addressing vigorously, the system in Wales has exposed those challenges very quickly."
Safety concerns
The Betsi Cadwaladr University Health Board in north Wales has faced a series of problems in recent months.
On Tuesday consultants at Ysbyty Gwynedd in Bangor warned they lacked faith in managers' ability to make the changes needed to provide good patient care.
They claimed the health board's internal structures were "not fit for purpose" amid patient safety concerns.
Last month the board's chairman and chief executive said they would stand down after a damning report which outlined how operations had been delayed and hospital waiting lists allowed to grow.
The board was also criticised in June for the way it handled an outbreak of the hospital infection C. diff which has contributed to the deaths of at least seven people this year.
Mr Drakeford added: "There are challenges I don't deny that, there are things we need to do. But we're not in a mid Staffordshire situation where nobody appeared to notice that there were challenges to be faced."
'Critical eye'
He also said the board and the executives at Betsi Cadwaladr were talking to consultants at Ysbyty Gwynedd, and the chief executive of NHS Wales would be meeting them over the next couple of days.
"That's the key difference I think, that when there are concerns we are in a good position to respond to them, to talk to people who are there on the ground, who have things that they wish to draw to our attention and then we're able to deal with them," he said.
Mr Drakeford has said February's inquiry report on the Stafford Hospital scandal had led to a "critical eye" being cast over the health service in Wales.
A series of measures designed to protect patients were unveiled by the Welsh government on Tuesday including changes to the NHS complaints system and a ban on gagging clauses
Mr Drakeford also announced that Welsh NHS funding levels would be reviewed to ensure there was no repeat of the Stafford scandal in Wales.
He said £10m would be used to recruit 290 hospital nurses.
Conservatives have long claimed that the Welsh NHS is underfunded but Mr Drakeford said the NHS budget would support patient safety and quality of care.
Tory Shadow Health Minister Darren Millar said: "What he must not do - at any cost - is waste the opportunity he has created.
"This review cannot amount to a simple tea room chat between two ministers from a Labour party that has consistently rejected additional NHS investment."