Horsemeat scandal: NFU chief's prosecution delay concerns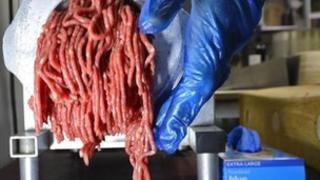 A leading UK farming chief says he is concerned over delays in bringing those accused of wrongdoing over the horsemeat scandal to justice.
President of the National Farmers' Union (NFU) Peter Kendall was speaking at the Royal Welsh Show in Powys.
But Natural Resources Minister Alun Davies said the investigations must be allowed to reach their conclusion.
The lessons learned from the scandal and how it affected the perception of food have been debated at the show.
More than 200,000 visitors are expected at the Royal Welsh in Llanelwedd, near Builth Wells, over the next four days.
The high temperatures are expected to continue on the first day of the event but forecasters are warning the hot weather could give way to thunderstorms from Monday evening to Wednesday.
Mr Davies and farming leaders and experts took part in the debate, organised by Aberystwyth University, at the show on Monday afternoon.
Horsemeat was found in a number of processed beef products across Europe about six months ago, raising questions about the food chain.
The Food Standards Agency is conducting an inquiry.
Speaking ahead of the university debate, National Farmers' Union's (NFU) UK president Mr Kendall said he remained "very concerned" at the absence of any prosecutions.
'Scrutiny'
He said he had raised his concerns with the Environment, Food and Rural Affairs Committee at Westminster.
"Farmers face incredible regulation and scrutiny... we go through all the hoops," he added.
"Our whole reputation's at stake and when somebody deliberately blends a different meat with another we expected prosecutions.
"So we are not happy with that but it's difficult to say where these prosecutions are, where gathering of evidence is."
But Welsh government minister Mr Davies said the investigations must be allowed to continue and reach their conclusion.
"I don't think it's fair to put pressure on the investigating authorities, the FSA (Food Standards Agency) in this case," he added.
"Peter Kendall doesn't know, I don't know what the FSA are doing, what evidence they're gathering and what processes they have to go through."
In the weeks following the scandal more than half of UK consumers changed their shopping habits, a consumer group survey suggested.
The survey by Which? found that 60% of 2,000 adults questioned online had changed how they shopped, with many buying less processed meat.
It also suggested that public trust in the food industry had declined.
The Aberystwyth University debate was chaired by Prof Wayne Powell, director of the university's Institute of Biological, Environmental and Rural Sciences (Ibers).
'Dismayed'Horsemeat prosecution delay concerns
Prof Powell said: "We are hosting this debate to bring together representatives across the political, farming, science and retail sectors to discuss how this issue has affected our perception of food from the farm to the retailer to the consumer."
The panel for the debate included Mr Davies, Prof Nigel Scollan and John Lloyd Jones of Ibers, Gwyn Howells, the chief executive of Hybu Cig Cymru/Meat Promotion Wales, Farmers' Union of Wales president Emyr Jones and John Davies, chairman of NFU's food and marketing group in Wales.
MPs on the Environment, Food and Rural Affairs Committee last week said they were "dismayed" at the slow pace of investigations into the horsemeat scandal, six months after the first mislabelling cases emerged.
But Defra said police were still investigating.
Meanwhile, the attendance at the Royal Welsh Show on Monday at 15:00 BST was 51,976, which is down on last year's first day total of 53,642.
St John Wales said it treated about 110 people at the show on Monday, with fewer than expected suffering from heat related problems even though temperatures hit 27C (81F).
A spokeswoman said people seemed better prepared for the hot weather last year when the charity treated a total of 800 people and issued a major heatstroke alert.
She added that up to 15% of the casualties had been treated for horsefly bites which were never normally a problem. But the charity could not explain this year's increase.