Welsh hospital infection rates revealed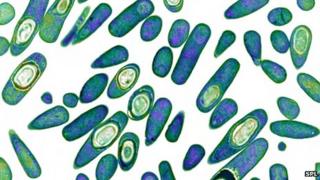 Figures released by the NHS in Wales show in detail for the first time how health boards and individual hospitals are tackling hospital infections.
Statistics suggest they have been relatively successful in reducing rates of C. diff and MRSA.
However, the figures also reveal a significant spike in the number of cases of MRSA in April this year.
The Welsh government says it has a "zero tolerance" policy to hospital infections.
In total, 31 MRSA cases were recorded across Wales in April 2013 - the highest number for a single month in the period data has been gathered since April 2010.
The all-Wales spike reflects a significant increase in the number of reported cases that month in both Aneurin Bevan and Betsi Cadwaldr Health Boards.
The statistics also show that rates of C. diff in north Wales have also gradually increased since the middle of last year.
Betsi Cadwaladr University Health Board was criticised in a recent official report by the Wales Audit Office and Healthcare Inspectorate Wales for weaknesses in its infection control procedures after a C. diff outbreak at Ysbyty Glan Clwyd.
The health board insists patient safety is always its top priority.
C.diff rate halved
But according to the Welsh government, health boards overall have made significant progress in tackling hospital infections.
It says there has been at least a 50% reduction in C. diff infections rates in the past five years, although the decrease in the rates of MRSA - the so called "super-bug" - has been slower.
However, the figures show there has been general increase in rates of MSSA - a similar infection - with an upward trend being reported in many hospitals.
On an all-Wales basis, the average rate over 12 months of C. diff per 100,000 of population has decreased from 89.24 in April 2011 to 61.85 in June 2013 - although the rates of reduction appear to be slowing.
The same average 12 month rate for MRSA shows a reduction from 6.92 per 100,000 population in April 2011 to 5.39 in June 2013
However, the 12 month rate has increased for MSSA from 21.54 in April 2011 to 24.19 last month.
Numbers and rates of MSSA infections remained relatively stable until mid-2012, but increases have occurred since the middle of 2012.
Public Health Wales has said previously it is investigating why this is the case.