Mametz Wood red dragon Somme memorial to be restored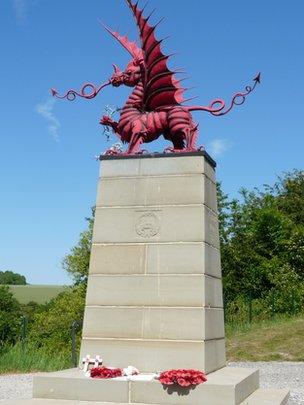 A red dragon memorial to Welsh soldiers who died in a World War I battle in northern France is to be restored after the Welsh government pledged £7,000.
The sculpture is dedicated to thousands of men of the 38th (Welsh) Division who died on the Somme in 1916.
It stands near a village in Picardy at an area known for the Battle of Mametz Wood which claimed many lives.
The announcement comes on the week that marks the 97th anniversary of the battle which lasted several days.
The Western Front Association said the money would ensure the memorial was well catered for in the years to come.
"In the 26 years since the branch raised the memorial, it has become a well-known feature of the Somme battlefield," said John Dixon, chairman of the south Wales branch of the association.
"During those years the commemoration of the 38th (Welsh) Division has formed part of the visit to the battlefield for many people, not least Welsh school children."
He said the battle of Mametz Wood resulted in 4,000 Welsh casualties.
Speaking on BBC Radio Wales, he added: "The state of the dragon requires painting on a five-year basis normally.
"It's been a little longer than that since the last time and with the other works that we need around the site we need a substantial input of cash this time to get it ready for the centenary.
"Just to refurbish the dragon we needed a few pounds over £7,000, which the Welsh government has now come up and given to us for which we are extremely grateful.
"That together with money we raised as a branch, and have been raising for the last 26 years, will go to the refurbishment of the memorial and tidying up of the site in readiness for the centenary (of the beginning of WWI next year)."
The maintenance of the memorial is carried out for the association by the Commonwealth War Graves Commission.
Culture Minister John Griffiths said it was important people remembered the sacrifice made by the soldiers.
"It is difficult to imagine quite what the men who fought there went through, but we know they endured great suffering and hardship," he said.
The poet Robert Graves, who fought in the battle, wrote about what he saw after returning to the wood when the battle was over:
"It was full of dead Prussian Guards, big men, and dead Royal Welch Fusiliers and South Wales Borderers, little men. Not a single tree in the wood remained unbroken."
A new memorial for the men and women from Wales who died in World War I will be dedicated in Flanders in Belgium next August to mark the 100th anniversary of the start of the conflict.
It has been organised by the Welsh Memorial in Flanders campaign.
Related Internet Links
The BBC is not responsible for the content of external sites.