Plaque for Tredegar ironworks engineer Rhys Davies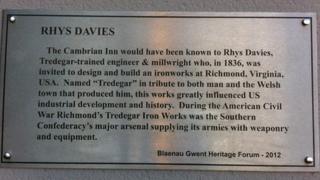 A plaque has been unveiled in Blaenau Gwent in recognition of an engineer from Tredegar who is said to have changed American history.
Rhys Davies left south Wales in 1833 to help build Tredegar Ironworks in Richmond, Virginia, which was named in his honour.
The works he built extended the American Civil War by giving the Confederate South a huge arsenal.
It later provided materials and jobs to rebuild the South after the war.
Peter Morgan Jones, chairman of Blaenau Gwent Heritage Forum which funded the plaque, said Mr Davies was not particularly well known in Wales despite "changing American history".
Mr Davies is said to have lived and trained in Tredegar from 1800 as an engineer and millwright when the town was one of the biggest centres of iron making in the world.
Some years later he worked with one of Napoleon's former marshals in France who was building ironworks there.
His life story may never have become apparent if it was not for a small article in a Hereford-based newspaper, according to Mr Jones.
"I came across a tiny paragraph in the Hereford Times taken from a Richmond newspaper in 1838 which stated that a Rhys Davies from Tredegar in south Wales had died," he said.
"It gave his potted history and without that we wouldn't have known exactly what he did here."
The American Civil War Centre now stands on the site of the Tredegar Ironworks in Virginia, where Mr Davies is better known.
Nathan Madison, a researcher from the centre, said Mr Davies died before the civil war started but the works he designed had a big impact.
"Francis Deane, the man who started our ironworks, didn't ask for a man from Wales or Tredegar, he asked specifically for Rhys Davies to design it," Mr Madison said.
"Richmond's role in the civil war was drastically changed because of the ironworks that Davies helped found.
"After the war the South was struggling to rebuild a lot of the infrastructure lost during the war - it's questionable if it could have been rebuilt if it wasn't for Tredegar being there."
Mr Jones said he hoped the plaque that now recognised Mr Davies's achievements would add to the town's legacy.
He added: "There was something about this place at that time which inspired the most extraordinary people.
"I'd like the plaque to remind us that the people this town produced went on to have an enormous impact on world history."