More Welsh 'would vote to leave EU', according to poll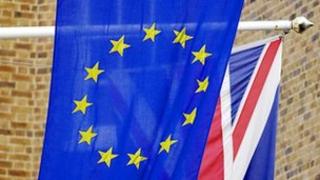 More Welsh residents would vote to leave the European Union than would vote to remain if there was a referendum on the issue, according to a new opinion poll.
The survey, by pollsters Beaufort on behalf of the Western Mail, found 37% of people would want to leave the EU.
Only 29% would vote to stay.
Prime Minister David Cameron has promised to renegotiate Britain's membership of the EU after the next General Election.
A referendum would then follow on whether to accept the deal or leave the union altogether.
Conservative MPs want Mr Cameron to act sooner and a private members' bill before parliament would commit the party to holding a referendum by 2017.
First Minister Carwyn Jones has said the current position has created "uncertainty" which poses a threat to jobs in Wales and across the UK.
Older voters
The survey found that 21% of adults who responded said they would not vote in a referendum.
Younger respondents were more likely to vote for Britain to remain in the EU than older voters, the survey suggested.
Voters in the south Wales valleys were the most eurosceptic, with 44% saying they would vote for the UK to leave.
The results follow a similar survey carried out for BBC Wales in February which found 49% of people thought that the UK would be better off outside the EU.
The Beaufort Wales Omnibus survey interviewed a representative sample of around 1,000 adults aged 16 and over in 69 locations across Wales.