Aberystwyth University president rejects 'dictatorship' claim by union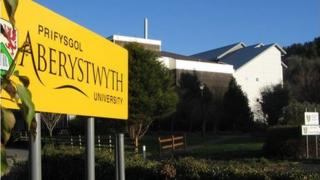 Allegations that one of Wales' leading universities is being run "like a dictatorship" have been dismissed by its president, Sir Emyr Jones Parry.
The University and College Union (UCU) claims Aberystwyth University managers are behaving like schoolground bullies and staff are fearful for their jobs.
Sir Emyr said: "I don't believe the views set out are representative and I don't recognise the picture."
The union also claims university staff were suspended over trivial matters.
The university said it was "perplexed" by the accusations, which it said had not been brought to its attention.
Since new vice chancellor April McMahon took over the role in August 2011, 11 members of staff have been suspended and 13 have had their employment terminated, it has been reported.
Martin Wilding, president of UCU at Aberystwyth, said staff were "literally looking over their shoulder," adding there was a sense they were under "constant surveillance".
He claimed there was also no sense of "due process" and "justice" over the suspensions, adding there was a conflict between management and staff that was "a sort of repressive relationship".
"If people speak out they feel that they are going to be punished," he said.
"There are rumours of people disappearing, and it sounds like a South American state when you say that, but people have sort of disappeared off the radar screen, as it were."
He added: "Invariably people are brought into a meeting on a one-to-one basis and suspended and dragged off campus".
BBC Wales spoke to other current and former members of staff who declined to speak publically about their experiences of working at Aberystwyth University for fear of reprisals.
But they claimed they were bullied, intimidated and harassed by senior managers.
'Due process'
Speaking on BBC Radio Wales, university president Sir Emyr Jones Parry said the union, one of four representing staff on the campus, had not formally raised any issue, even as recently as a scheduled meeting with management last week.
He said: "I don't believe the views set out are representative and I don't recognise the picture.
"If there was any suggestion this was rampant in the university, believe me, I would have been on the case."
"I'm not saying I haven't heard of the problems. They were not raised officially in any meeting."
He rebutted the union's claim over a lack of due process in management actions.
He said: "No-one has not been subject to due process. I can assure you.
"Due process is rigorously applied in Aberystwyth."
The most high profile of the alleged suspensions involved two officers from the Aberystwyth arts centre - director Alan Hewson and operations manager Auriel Martin.
Mr Hewson has retired and Ms Martin is the subject of an internal disciplinary investigation.
Last month a protest stopped traffic on the campus in support of the pair but the university said it could not comment on matters involving individual members of staff.
Councillor Sue Jones Davies claimed the relationship between the university and the town was strained.
She said: "People are hearing all sorts of rumours and not being able to verify what is exactly going to happen to the arts centre and even the university generally... people would like a little transparency about changes and the direction the university is going in.
"It's very frustrating to not be able to find out more. It's a bit of a ludicrous situation."
The university said it would be happy to sit down and discuss the issues with the UCU.
It said in a statement: "Aberystwyth University is perplexed by the accusations being made by UCU and which have been presented to the university by BBC Wales.
"We have regular meetings with unions at the university, including UCU, the most recent of which took place last week, and these matters have not been raised with us nor has UCU been responsive to our offers to engage with them on the issues raised in the media until today.
"UCU is always welcome to bring their concerns and evidence to the table, we will then discuss them together.
"From the university's perspective, we struggle to reconcile these allegations with strong indications of improved organisational wellbeing, for example the significant drop in days lost through sickness."
The university said there were "clear indicators" it offered an attractive working environment "as reflected in the considerable interest in working here".
'Aggressive and confrontational'
Last week the singer Peter Karrie announced he would be resigning a fellowship awarded to him by the university in 2007.
In his letter to Ms McMahon, Mr Karrie said it was in protest over "what appears to be your extraordinary determination to ruin one of the finest arts centres in the country. I cannot be a representative of ingratitude and cruelty".
Economist John Cable also resigned his emeritus professorship because university management was "disproportionate, aggressive and confrontational".
And the Welsh Rugby Union's poet in residence Owen Sheers has voiced concerns over the future running of the arts centre.