Barry seagulls halt £5.4m former court redevelopment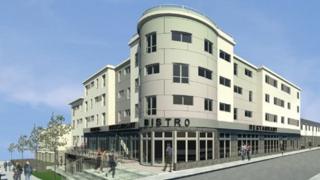 Breeding seagulls have halted a £5.4m housing and shopping redevelopment in Barry, Vale of Glamorgan.
Newydd Housing Association said it had suspended demolition work on the town's former magistrates court building.
Builders are off site until the chicks have fledged, which is expected in August.
The housing association said security has been stepped up at the site, which will become 52 houses, flats and retail units, "to protect all parties".
Gulls are a protected species and it is illegal to harm the birds, their nests, chicks or eggs.
The magistrates court building closed in November 2011.
The redevelopment is partially funded by the Welsh government as part of its regeneration plans for the town.
Demolition began at the site in May and has been monitored by Vale of Glamorgan council officials, whose advice last week brought work to halt.
Newydd Housing Association chief executive Paul Roberts said, "We have been working with the ecologist from the Vale of Glamorgan Council throughout the demolition of the former Barry Magistrates Court to ensure the seagull nests are protected.
"After advice from experts we decided on Friday [12 July] that demolition will be halted until the chicks have fledged their nests."
The housing association hopes to begin work on the affordable homes and retail space at the end of 2013.
On its website, Vale of Glamorgan council's pest control advice is: "Chicks generally fledge in August and then take three or four years to reach maturity and breed.
"The life expectancy of a gull which reaches maturity is about 20 years.
"Gulls will tend to return to the same nesting site and unless action is taken to proof a building, problems associated with these birds may recur annually."