Carl Mills trial: Accused 'lied to police about location'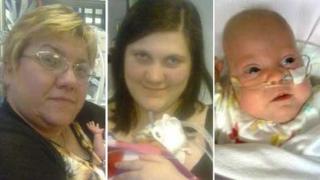 A man on trial for murdering three generations of the same family in a house fire has said he lied about where he was on the night of the blaze.
Carl Mills, 28, initially told police he was at a pub some distance from the house in Cwmbran, Torfaen, but in court he said he was at a much closer pub.
He also said he had not showed any emotion at the scene because he had "held in" his emotions all his life.
He denies killing Kayleigh Buckley, 17, her daughter Kimberley and mother Kim.
The fire had been started on 18 September 2012 just hours after baby Kimberley, who was blind and deaf, had been brought home from hospital.
Mr Mills said in police interviews after he was arrested that he had been drinking in the Waterloo pub, some distance from the Buckleys' house in the Coed Eva estate.
However in court he said he had lied and had actually been in the Mill Tavern, which was about 300m from the house.
During cross-examination Mr Mills said he did not know why he had lied.
He also said he had not shown any emotion when he was arrested in the back garden of the house as it was burning because he had "held in" his emotions "all his life".
The court also heard further evidence of threatening text messages sent by Mr Mills to Kayleigh, accusing her of being unfaithful:
17 September, 22:32 BST: "Sleep with one eye open...I'm going now for good but you're getting hurt first".
23:18 BST: "I want to kill your lad".
18 September, 00:33 BST: "Bring him out now".
00.55 BST: "Easy target, but if your house gets set on fire, I'll find him. You don't know me at all do ya".
The fire was caught on a private CCTV camera at 03:22 BST and emergency services were called five minutes later.
The prosecution alleges Mr Mills set fire to the tent in which he was staying outside Kayleigh's house, before texting: "That's a warning sign...I asked you to meet me with him but you won't and Kimberley saved you."
Mr Mills told the court his texts were "just a saying" and that he would not have carried out his threats.
He told the court he was at the Mill Tavern, which has since been demolished, when he saw smoke and heard screaming and walked over to the house.
Prosecuting barrister Gregory Bull QC said to Mr Mills: "You set that fire in a moment of temper."
Mr Mills replied: "No."
The prosecution have argued Mr Mills started the fire because he wrongly believed Kayleigh had started seeing another man and thought he was in the house that night.
The trial continues.