South Wales fire stations could be downgraded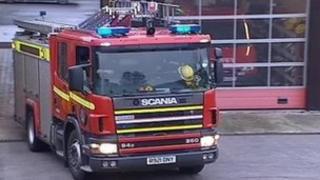 Some fire stations could be downgraded in south Wales with full-time firefighters replaced by on-call crews.
South Wales Fire and Rescue Service is holding its biggest ever review of frontline staff, equipment, vehicles and station locations.
Plans include building a new station in South Cornelly, near Bridgend, to replace stations in Kenfig Hill and Porthcawl.
A new station may also be built in Cardiff if the city continues to grow.
The fire cover review has been prompted by a drop in emergency calls to some stations outside the Welsh capital.
It will suggest moves and changes that will put the "right level of cover in the right places at the fight times".
Chief fire officer Huw Jakeway said: "The fire cover review will be reviewing the whole service area but will take place in three stages.
"Stage one will look at the unitary authorities of the Vale of Glamorgan, Bridgend and Cardiff.
"The review will look at the location, number and type of resources within each of our authorities including firefighters, vehicles, equipment and fire stations that are needed, and where they should be located to provide the most efficient and effective and safest fire and rescue service across south Wales.
'Changing demands'
"Any proposed changes to those resources will be consulted upon with our employees, the public and partners this essential feedback from this consultation will be taken to our fire and rescue authority for agreement before moving on to stage two of the fire cover review."
The review includes proposals for the following areas:
Cowbridge: Move its full-time firefighters to other stations and replacing them with on-call crews
Barry: Two full-time crews could be replaced with one full-time and one on-call crew
Bridgend: A new fire station could be built in South Cornelly to replace stations in Kenfig Hill and Porthcawl, staffed by the existing on-call firefighters;
Cardiff: If the city continues to grow the service might have to build a new fire station
"It is the first time since South Wales Fire and Rescue Service was formed in 1996 that we have considered - on this scale - the people, equipment and vehicles available and where they are located, is essential to conduct this review to ensure we meet the changing demands of the our area and the communities we serve across south Wales," added Mr Jakeway.
He said a series of public exhibitions about the plans would be held throughout south Wales.
In response, the Fire Brigades' Union (FBU) said it would be worried at any cuts put lives at risk.
"Any sort of downgrading concerns us as a trade union especially if it affects emergency response times," said Cerith Griffiths, the FBU's secretary in Wales.
"This could put people's lives and those of firefighters at risk.
"But we haven't had chance yet to fully digest what the fire service is planning."
People can post their views about the review to Freepost RSAU-CCXG-XKAS, South Wales Fire & Rescue Service, Unit 2, Forest View Business Park, Llantrisant, Pontyclun, CF72 8LX or email: haveyoursay@southwales-fire.gov.uk