BBC Wales has record programme audiences, review finds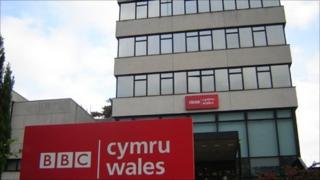 BBC Wales achieved record audiences for its English-language programmes in the last financial year, according to its annual management review.
Almost a million people tuned into BBC Wales' weekly output in Wales in 2012-13, the highest figure in a decade.
BBC Wales websites have seen a 13% increase on the year before with 2.7 million weekly users.
Director, Rhodri Talfan Davies said "challenges continue to come thick and fast."
The review also noted the fall in listeners to BBC Radio Cymru, which reached its lowest ever level in May this year, while audiences for BBC Cymru Wales' programmes on S4C have also fallen compared to 2011/2012 and 2010/2011.
In his introduction to the review, Mr Davies praised the success of the past year's programming, but warned that "the broadcast landscape is fast-changing and the challenges continue to come thick and fast".
He added: "The latest census revealed the challenges of serving a rapidly evolving Welsh-language audience; the restricted geographical coverage of both our national stations continues to frustrate listeners; the music dispute that disrupted our services in January needs to be resolved; and we want to ensure contemporary Wales is better reflected in our contribution to network programming."
Among the key priorities for the next year, the review states that BBC Wales will reshape its online Welsh-language site to offer "a more topical and distinctive service".
The new site will aim to help users make the most of the BBC's Welsh-language news and general content, and direct them to other Welsh-language resources across the internet.
The review also commits to continuing discussions with S4C to explore opportunities to co-locate both broadcasters on a single site.
The next year will also see BBC Wales offer a range of programming to commemorate the centenaries of the birth of Dylan Thomas and the start of World War I in 2014, as well as the Commonwealth Games.
Drama will also feature heavily in BBC Wales output over the next year, with the premier of the detective series Hinterland and the return of The Indian Doctor.
This year BBC One Wales also became available in HD for the first time.