Heatwave sparks rise in accidents and A&E visits, say medics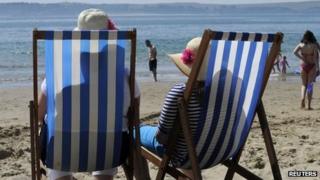 The number of people suffering sunstroke, sunburn and heatwave-related injuries is stretching hospital emergency departments, doctors say.
Others injuries include toes amputated due to gardening accidents and people hurt in falls as more go out and about.
Chief medical officer Dr Ruth Hussey urged caution before visiting A&E units saying medics faced increased pressure.
Forecasters say the hot weather is expected to continue for several days.
Casualty departments at north Wales' three acute hospitals - Ysbyty Gwynedd in Bangor, Glan Clwyd at Bodelwyddan and Wrexham Maelor - have issued advice online saying they have seen a rise in people suffering with dehydration, sunburn and related conditions.
In south Wales, the Princess of Wales Hospital in Bridgend and Swansea's Morriston Hospital, where the Centre for Burns and Plastic Surgery is based, say emergency medics have carried out severe trauma surgery on gardeners, including amputations, on feet and toes after accidents involving lawn mowers.
And they report seeing higher than normal numbers of older patients admitted with hip fractures after falling as well as a rise in the number of ankle injuries suffered by walkers.
Water warning
Welsh Water and the emergency services are advising people not to swim in reservoirs following two deaths in separate incidents at Pontsticill and Cantref reservoirs in the Brecon Beacons in Powys at the weekend.
Daniel Clemo, 24, from Trecenydd, Caerphilly, drowned after getting into difficulty while swimming at the Cantref reservoir on Sunday.
His mother Christina told the Western Mail she was heartbroken and warned people to heed the dangers.
"He just lived life to the full and I just want people to look at this and to stay away from the water," she told the newspaper.
"It entices all ages but it's no good. They've got to go somewhere else."
Welsh Water maintains more than 80 reservoirs across Wales and says swimming in reservoirs can be extremely dangerous.
Lauren Jennings, 22, from Merthyr Tydfil, lost one of her best friends while swimming in a reservoir in 2006.
She said she did not realise how important the messages were until it was too late.
"As a 15 year old, you just think you are invincible and that it wouldn't happen to me or any of us," she said.
"I want to do all I can to make sure people realise that no matter how beautiful the reservoirs look, the reality is they are very dangerous."
On Tuesday, a man died after reportedly falling into a river near Wrexham.
And an inquiry continues into two soldiers who died during SAS selection training in the Brecon Beacons on Saturday, with a third serviceman seriously ill.
Wales' chief medical officer Dr Ruth Hussey said it was important to keep in mind the risks of too much exposure to the sun and heat, and to take precautions.
"With the increased pressures on A&E during the warm weather, it is important that the public play their part in assisting the emergency care services by considering whether they could be treated with support from NHS Direct Wales, a pharmacist or through primary care services," she said.
The Welsh Blood Service says it is facing low supplies from donors which they put down to people enjoying the sun rather than giving blood.
"We don't blame them, but the demand for blood is 365 days a year," said spokeswoman Kate Hammond.
On Tuesday, a helicopter was also brought in to drop water on to a large mountain fire at Rhigos near Hirwaun in Rhondda.