Monthly jobless in Wales up 2,000 but down 10,000 for year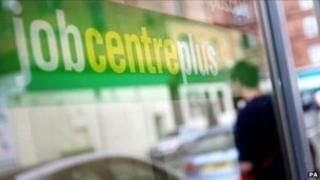 The latest monthly jobless figures for Wales show an increase of 2,000 out-of-work between March and May.
The number of unemployed stood at 122,000, latest official statistics show, a rate of 8.2%
However, the trend year on year is still down by 10,000 - a drop of 7.8%. It means 1.4 million people in Wales were in work during the three months.
Across the UK, unemployment fell by 57,000 to 2.51 million - giving it the same jobless rate as Wales at 7.8%.
Meanwhile, Wales saw a larger rise in the employment rate and the largest drop in the economic inactivity rate than any English region or other devolved nation over the last quarter.
Welsh Secretary David Jones said he was heartened by the news.
"It is a tribute to the Welsh business community that it is leading the way with increases in employment and falls in economic inactivity," he said.
"So often the economy in Wales is talked down, but I know from the Job Summit I held in north Wales last week that there is a wealth of young talent eager to work."
A Welsh government spokesperson said: "Today's figures show a further improvement in the labour market in Wales, which has again performed better than the UK as a whole, and are consistent with other economic data and business survey results which have shown some positive signs in recent months."
The Federation of Small Businesses in Wales (FSB) said a rise of 10,000 in the number of people in employment in the three months to May chimed with its own research on business confidence.
"There is still a long way to go before the economy is firing on all cylinders, but there is a feeling among many of our members that things are improving," said FSB Welsh policy unit chair Janet Jones.