Doctors get hearts tested for Channel crossing swim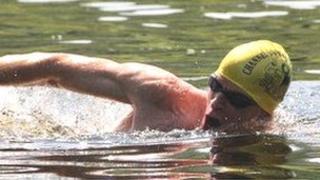 A group of Welsh doctors are set to find out if their own tickers are up to an ultimate physical test - swimming the English Channel.
The eight underwent tests on Wednesday as part of their preparation for the challenge in about eight weeks.
The doctors, who come from across Wales, are raising money for the Heart Research Fund for Wales.
They say it was prompted by the fact that Wales has a 15% higher death rate from heart disease than England.
The money raised will go towards a project aimed at reducing deaths in younger people in the deprived parts of Merthyr Tydfil, Port Talbot and the Llyn Peninsula in Gwynedd.
The team, aged between 39 and 59, have set themselves a target of collecting £100,000.
"We are all in the highest risk group for sudden early death," explained one of the swimmers, Powys GP, Dr James Wrench.
Cold water risk
"Some of us were elite athletes in our youth representing our universities for swimming and other sports at national level.
"But having dedicated the last two decades or more to the medical profession some of us have doubled in weight and become very unfit.
"So we are fighting a personal battle to regain some of the fitness we once had."
The Builth Wells GP is being joined by Cardiff University Hospital of Wales (UHW) consultant cardiologist Prof Julian Halcox, Prof Marc Clement of Swansea University's College of Medicine, UHW consultant neurologist Dr Robin Corkill, Dr Phillip Freeman - another UHW cardiologist, Ysbyty Gwynedd's microbiology consultant Dr Stuart Darcy, and Prof Mark Rees from Swansea University.
All eight had their fitness measured at the University of Glamorgan's Neurovascular Research Laboratory.
Later, they met the Welsh government health minster, Mark Drakeford after a dip in Cardiff Bay itself.
The 21-mile Channel crossing relay challenge will take place in September, when it is hoped that the sea temperature will be some 5 degrees warmer than at the moment.
"Temperature is the single most important determinant of the effects on the cardiovascular system and risk of hypothermia associated with cardiac arrhythmias which are the commonest cause of death in channel swimmers," added Dr Wrench.