Farm wages: AMs pass powers bill using emergency rules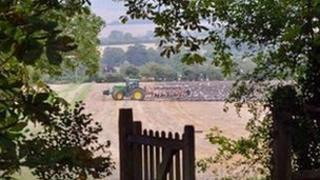 Emergency legislation to protect the wages of more than 13,000 farm workers in Wales has been passed by AMs.
Welsh ministers introduced the bill to retain the functions of the Agriculture Wages Board (AWB) in Wales after the UK government abolished the board in June.
Rural Affairs Minister Alun Davies said the bill would help ensure a prosperous future for Welsh agriculture.
But Conservatives accused him of showing "contempt" for the process of scrutinising legislation.
The Welsh government maintains the AWB was central to the efficient operation of an industry made up of many small farms with large numbers of seasonal and casual workers working long hours performing "highly physical and dangerous tasks".
The board oversaw six pay grades relating to workers skills, qualifications, experience and their level of responsibility.
All the pay levels were set higher than the statutory minimum wage, currently £6.31 for workers aged 21 and over.
Mr Davies said the bill provided "continuity of a statutory regime that is well-known and respected by the sector - a regime that acknowledges the distinctiveness of Welsh agriculture, supports skill development and encourages new entrants into the industry.
"Agriculture is a fundamental part of Wales' economy, identity and rural heritage," he said.
"I am very pleased that we have passed a bill that will strengthen our agricultural industry and protect our rural communities throughout Wales."
'Victorian'
Shadow Rural Affairs Minister Antoinette Sandbach said Mr Davies had had "years and months to bring forward this legislation" and had instead chosen to do so using an emergency procedure over 24 hours.
She accused him of showing "contempt" for the people and the process involved in scrutinising the legislation.
Plaid Cymru AM Jocelyn Davies condemned Labour AMs for not backing her amendment to ban zero-hours contracts in agriculture.
She said: "Senior Labour figures and trade unions have condemned zero-hours contracts in recent months, branding them exploitative and a throwback to the Victorian era.
"Yet when Labour had the chance to outlaw them in the agricultural sector, as they did today, they decided to betray low-paid workers instead."
'Outdated'
Farming unions have taken opposing views on whether the AWB was needed.
The Farmers' Union of Wales (FUW) described it as a "vital means of persuading high calibre people to remain in or enter the industry.
However, the National Farmers Union (NFU) backed UK ministers' decision to abolish it, saying it was "outdated and unnecessary".
For 65 years the AWB was a forum for employer and employee representatives in England and Wales to decide on pay and conditions.
The Welsh government opposed its abolition but was told by Whitehall it was not a devolved matter since it was mainly about non-devolved employment issues rather than agriculture.
'Abused'
Ministers in Wales brought forward an emergency bill to retain the functions of the AWB, insisting it was central to the farming industry.
Opposition AMs have criticised the speed with which the legislation went through the Senedd, saying procedure was being abused by ministers.
But they welcomed the Welsh government's decision to allow the panel to propose wage levels, rather than simply advising the rural affairs minister on them.
Scotland and Northern Ireland have their own wages board.