Heatwave melts roads in parts of Wales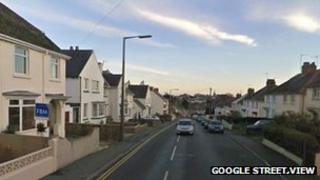 Extreme temperatures are melting roads leading to emergency repairs, say council highways officials.
Vale of Glamorgan council gritting vehicles, normally used in winter, are laying crushed rock dust to protect road surfaces reaching 49C (120F).
Similar problems have been reported in Pembrokeshire, Carmarthenshire, and Gwynedd.
Highways officials said UK roads were laid with bitumen graded for colder weather.
Ken Evans, acting routine maintenance manager at the Vale of Glamorgan council, said highways staff recorded road temperatures of 49C (120F) on Wednesday at 15:00 BST.
The council is now using gritting lorries to prevent roads from being damaged by the heat.
Meanwhile, Pembrokeshire council is carrying out emergency repairs to one of the main roads in Tenby which has also been affected by the weather.
The surface of a section of the A4218 known as Broadwell Hayes - between Serpentine Road towards The Green - has begun breaking up in the last two days.
The road will remain open with traffic managed by stop and go boards.
"There is no doubt that the recent spell of extremely hot weather is responsible for the deterioration of the surface," said councillor Rob Lewis, council cabinet member for highways and planning.
"It is very regrettable that we have to carry out this work on one of the busiest roads into Tenby at the start of the school holidays but we really have no choice.
"It would not be in the interests of safety to leave repairs until September."
In Carmarthenshire, motorists were being urged to watch out for uneven roads and drive carefully.
Highways maintenance crews in the county have been sent to repair potholes and seal road surfaces with stone dust or sand.
'Minor damage'
Carmarthenshire council executive board member Colin Evans said: "It is important that drivers are made aware that the high temperatures have caused minor damage to some of the roads and that they should take notice of any signs and drive accordingly.
"The areas affected are mainly in the rural parts of the county and are few and far between.
"It is not a major issue and we do not want to alarm people unnecessarily."
Roads affected include the road from the Bryncoch crossroads in Ferryside to Upland Arms; Heol Smyrna in Llangain; the B4333 in Cynwyl Elfed; the road from Crugybar to Llansawel; the Royal Oak Bend on the A482; the A482 at Bramble cottage in Cwmann; and the road through Llanglydwen.
In Gwynedd motorists were surprised to see lorries, usually seen gritting roads in snow and ice, spreading the crushed rock dust on to hot road surfaces in the Caernarfon area.
A spokesman said: "When problems with road surface relating to the high temperatures are identified, the council's highways crews used crushed rock dust to seal the surface.
"A vehicle is on stand-by to deal with problems should they occur."