Dyfed-Powys PCC launches rural policing expertise drive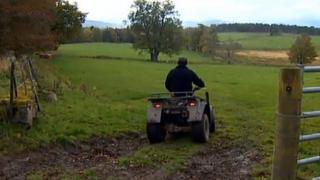 The public is being asked what police officers need to do in the Dyfed-Powys force area so that they can become "experts in rural policing".
It is part of a six-week consultation launched by police and crime commissioner Christopher Salmon.
Dyfed-Powys Police is the most rural police force in England and Wales.
Farming unions have urged their members to have their say about the need to tackle livestock rustling, vehicle and machinery thefts and fly-tipping.
The police force covers four counties - Carmarthenshire, Ceredigion, Pembrokeshire and Powys - totalling 52% of Wales' landmass and is a predominantly rural beat.
Mr Salmon said the consultation, which can be completed online, would help him set out the priorities in his five-year police and crime plan.
"The very thing which makes ours the best part of the world to live in also presents particular challenges for policing and keeping our homes and families safe," he said.
"And it's to address that vulnerability that I've asked the chief constable to produce a rural policing strategy.
Farm watch schemes
"This strategy is an opportunity not just for the police but for all our communities to play their part in finding ways to keep our homes and families safe."
Mr Salmon has called for the force to keep its helicopter arguing that UK government plans to replace it with a fixed-wing aircraft "doesn't reflect the reality" of the force's rural nature.
Dyfed-Powys chief constable Simon Prince said people in isolated communities were "entitled to the same high policing standards" as those in urban areas.
Mr Prince said the rural nature of his police force area presented "unique policing challenges".
He added: "Preventing and detecting crime is often more difficult as there may be fewer witnesses to criminal activity.
"In addition, the isolation of some of our communities can make them feel vulnerable to crime and anti-social behaviour, including domestic abuse, speeding vehicles and theft."
NFU Cymru rural affairs board chairman Bernard Llewellyn said rural policing should be a "high priority" for the force.
"Crimes such as metal, vehicle and diesel thefts and fly-tipping impact our rural communities," he said.
"Many of our members are already involved in farm watch schemes across the region and we're keen to build upon this partnership working in the fight against rural crime."
'High priority'
Meinir Bartlett, of Farmers Union of Wales, said: "We hope a rural policing strategy would involve dedicated farm liaison officers who would develop experience in farming, a knowledge of farmers in their area and make regular contact with the community."
NFU Cymru also feels that rural policing should be a high priority on the agenda.