Wales' Olympic legacy 'under threat' says Laura McAllister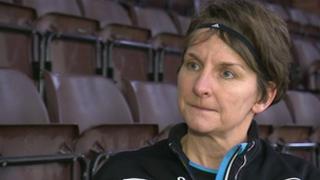 The head of Sport Wales has told the BBC the country's Olympic legacy is under threat because of budget cuts.
Laura McAllister said looming cuts by local authorities put participation in sport at risk.
In June the Welsh Local Government Association warned of "carnage" and a "nightmare" because of financial challenges.
There are fears that non-statutory services such as leisure will bear the brunt.
In July, Torfaen became the latest council to hand over control of its leisure services to improve their efficiency.
They are now being run by a not-for-profit trust.
Earlier this summer, London 2012 organiser Lord Coe said Wales is well placed to encourage more people into sport as a result of the Olympic and Paralympic Games.
He said: "Over the past few years, I've seen a lot of smart things happening in Wales, particularly in disability sport. I've always been incredibly impressed."
However, Sport Wales chair Prof Laura McAllister said: "The legacy must be under threat in the current financial climate."
She also called for a different approach to spending on sport.
Sport Wales, the umbrella body for Welsh Sport, currently receives £24m from the Welsh government and £16-17m from the National Lottery.
"We need the support from our government and from the sectors we actually deliver for," said Prof McAllister.
"Sport is a very low cost intervention that helps other more costly areas like health and education. So my message to those sectors is come and work with us in a collaborative way."
In response, a Welsh government spokesperson said: "In Wales we have a proud sporting heritage.
"We recognise the important benefits sport can bring - both from a health and economic point of view - and we are committed to widening access and encouraging greater participation in sport and physical activity."
The idea of an Olympic legacy in Wales had the perfect start as Welsh athletes won a record seven medals at the London Games.
The last set of official figures from Sport Wales showed a 30% rise in people boxing and swimming and 30 new canoe clubs.
Welsh Gymnastics has reported a 40% rise in members to 13,000 compared to July 2012, and is looking at further expansion.
Jason Wink, owner of Somersault, one of Wales's biggest gym clubs, said: "Children can't help but notice sport.
"The Olympics has made sport glamorous and it has made children think they won't be a pop star, an actor, or go for a high-flying job.
"Sport offers another opportunity for them and the Olympics has had a really major impact."
The anecdotal evidence in one of Wales' golden sports, Taekwondo, also suggests an increase in participation.
Taekwondo player Jade Jones, from Flintshire, won gold and her success is proving to be an inspiration.
On a sweltering summer's evening in the Canton area of Cardiff 15 adults and children are making mincemeat of training pads with a variety of punches, kicks and blood-curdling shouts.
But the atmosphere is friendly and bubbling over with enthusiasm.
Porl Stone is head of WTF Taekwondo Cymru and is delighted Jade Jones is flying the flag.
"It is a massive inspiration to all of us and it is really nice to see a Welsh person up there winning the gold medal," he said.
"When people walk through the door they mention Jade Jones three seconds into the conversation.
"Before it was just a martial art, now it's an Olympic sport and that is the legacy the Olympics have left.
"Every day I get 12 calls just enquiring about Taekwondo. Before the Olympics I probably got about four or five."
There are two types of Taekwondo, similar to the situation in rugby with union and league.
Sarah Jayne Farthing was British champion in the non-Olympic version before watching Jones and switching codes.
"I saw Jade and thought what a strong female she was - she's got it all," she said.
"I find with WTF Taekwondo that the female players are really like athletes. You can still be feminine, but still kick people round on a mat.
"What she did was amazing and it is what made me join this club."
However, hanging over the golden glow is the ominous shadow of those potential cuts to budgets and the knock-on effect to participation at grassroots level.
Prof McAllister said: "We are doing an enormous amount of work at the moment on a very, very small budget.
"I think we can get a much better dividend from everything we invest, if we can align our budgets better with health and education in the future."