Hot weather drink-drive warning as over 400 fail breath tests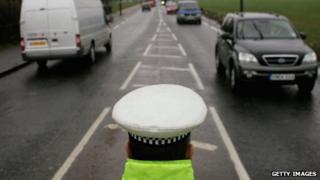 Police are warning motorists to avoid the temptation to drink and drive in the hot weather, after more than 400 people were caught in a summer crackdown.
The four Welsh forces stopped 20,000 drivers in the month long campaign.
The police forces said they were also receiving more tip-offs from the public on drink-drivers.
But the number of arrests has remained stubbornly similar to previous years, at about 2%.
Ch Insp Darren Wareing from North Wales Police said: "We are disappointed that there is still a group of people who are not listening or ignoring the consequences and continuing to drink or take drugs and drive.
"With the current warm weather, more people may be tempted to have a few drinks, at barbecues or whilst drinking in beer gardens during the afternoons, and may drive without thinking of the consequences."
The month-long crackdown on summer drink-driving was launched at the start of June.
In total, 420 people were arrested for failing roadside breath tests, while other arrests pushed the number up to 436.
Insp Lee Ford of Gwent Police's road policing unit said he believed more people are willing to report those they think may have been drinking and driving.
"We have seen a rise in the amount of information that is coming into us. A lot of that has been down to us publicising the single non-emergency number, 101," he said.
"It is socially unacceptable. There is a small hardcore of individuals who persist in drink-driving and there will be a few others who foolishly may have had one or two too many.
Targeting known offenders
"I think where people have to be aware is that individuals who witness this are prepared to report this to the police.
"As a result of that we have good intelligence where we can target these individuals and place them before courts."
As in previous years, it was the north Wales force that carried out the most roadside tests, stopping 8,281 motorists, with 109 failing.
The legal limit for alcohol consumption and driving in the UK stands at 35 micrograms of alcohol per 100 millilitres of breath.
In south Wales, of the 2,023 people stopped - 105 drivers were over that limit.
The Gwent force stopped almost exactly the same number of drivers, but just 64 were arrested.
The most arrests were in the Dyfed-Powys force area, where 7,544 motorists were tested and 142 failed, or 1.9% of those tested.
Ch Insp Wareing of North Wales Police added: "We want to get the message across that drinking alcohol and driving or driving under the influence of drugs is unacceptable and that it puts other roads users' lives at risk.
"It can also lead to a lengthy driving ban and possible loss of jobs and livelihoods with some even facing imprisonment."