Birds exposed to 'hidden pollutants' in south Wales valleys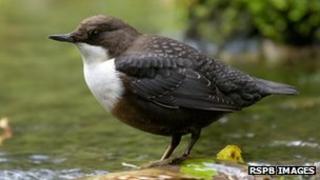 Birds which have returned to the former industrial valleys of south Wales are being exposed to extremely high levels of hidden pollutants, experts warn.
Tests on eggs of dipper birds found chemicals used as flame retardants in furniture and motor vehicles.
The birds have fed on local rivers in growing numbers since heavy industries such as coal mining declined.
Natural Resources Wales says water quality has dramatically improved in the last 30 years.
Prof Steve Ormerod from Cardiff University's school of biosciences said PBDE and PCB compounds they found may be potentially hazardous to the birds, but the impact is not yet fully known.
"It's a paradox that on one hand dippers are progressively colonising rivers that used to be grossly polluted and they are being exposed to new, novel pollutants whose impact we don't fully understand," he said.
Sign of cleanliness
The tests found that urban rivers in south Wales contain some pollutants at levels, on average, over four times greater than in adjacent rural rivers.
"What we're learning here is that urban areas have increased concentrations," he added.
"These concentrations we're finding are among the highest ever recorded in songbirds anywhere in the world."
Dippers are considered to be good sign of river cleanliness, as they feed directly on river insects.
"They depend on clean rivers to provide them with the species they eat," Daniel Jenkins-Jones from the RSPB in Wales said.
"They particularly like species such as caddis fly larvae. The dipper if you like is the indicator that the rivers are clean and there's enough food in the rivers for them."
Rivers like the Taff, which flows through Merthyr Tydfil and Pontypridd before reaching Cardiff, have seen a big increase in birdlife in the last 30 years, corresponding with a decline in industries such as coal and steel along the valley.
According to Geri Thomas, who has been bird-watching on the Taff for over half a century, the area has been transformed.
"I first came down here on my own when I was about 8 years of age and the water was coal black," he said.
"I wouldn't have seen dipper, I wouldn't have seen grey wagtail, and I most certainly wouldn't have seen goosander. I might have seen mallard if someone hadn't shot it."
Natural Resources Wales says other animals such as otters and salmon have also returned to the Taff because of the improved water quality, but it is aware that some chemicals still remain in the environment.
It stressed that there have been tight controls on the disposal of PCBs since the late 1980s, but says that they do not break down in the same way as other compounds.
A spokesman said that they are committed to tackling the problem of chemicals that remain in the environment and further improving Wales' rivers.