Business key to tackling poverty in Rhyl, says hotelier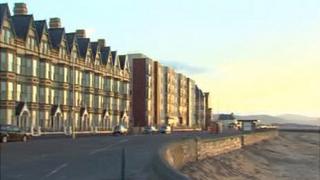 Businesses need help to regenerate Rhyl says a hotelier after a think-tank warned some coastal areas were stuck in a cycle of poverty.
The Centre for Social Justice (CSJ) said some seaside towns such as Rhyl were becoming "dumping grounds" for vulnerable people.
Carol Dobell of the town's Westminster Hotel said businesses should be given more help to tackle deprivation.
The Welsh government said it was trying to do all it could to help.
Rhyl was designated a special regeneration area a few years ago and both the Welsh government and Denbighshire council have spent money in an attempt to tackle the town's problems.
The CSJ report, entitled Turning the Tide, examined conditions in five coastal towns in England and Wales - Rhyl in Denbighshire, Margate in Kent, Clacton-on-Sea in Essex, Blackpool in Lancashire and Great Yarmouth in Norfolk.
CSJ, set up by Work and Pensions Secretary Iain Duncan Smith, said seaside towns were experiencing "severe social breakdown" and becoming "dumping grounds" for vulnerable people such as children in care and ex-offenders.
While each town has its own particular problems, it said "a recurring theme had been that of poverty attracting poverty".
Ms Dobell, a hotelier for more than 30 years, said more regeneration money should be spent on businesses, who could employ people and take them out of poverty.
"I've tried applying for grants to improve my hotel but I've been unsuccessful," she said.
"I employ 25 staff but they're seasonal. If I could invest more in my businesses then 15 of those people would be full-time," she said.
Ms Dobell said her property was not graded but it had the potential to be a three-star hotel.
'Struggling economy'
Many seaside towns' economies were badly affected by the advent of cheaper foreign travel in the 1970s, said the CSJ report.
This led in turn to a depleted economy, low skills base and "dangerously high levels of family breakdown".
In one part of Rhyl, two-thirds of working-age people were dependent on out-of-work benefits.
Prof David Adamson, chief executive of the new Centre for Regeneration Excellence in Wales, said the problems in Rhyl were a consequence of the pull of cheap housing.
"They're old guest houses, they're old large town houses, they're very easy to divide into multiple occupancy and they generally suffer lack of investment so they become very poor quality housing," said Prof Adamson on BBC Radio Wales.
"Therefore they are very cheap and therefore very attractive. If you're living on benefits you can move to Rhyl and other places like it and the cost of living suddenly reduces.
"You have to improve the housing, bring it back up to a decent standard so rents begin to come back up so they become part of the normal housing market, rather than this distorted market."
Alan White, who helps run a soup kitchen in Rhyl, said people who had problems moved to the seaside resort because they had enjoyed holidays there.
"We need to look at the reasons why people are here and what we can do to break the cycle of people just coming here and just going into the multi-occupational properties," Mr White said on BBC Radio Wales.
In 2011, a total of £10m was earmarked for the regeneration project in Rhyl which included new housing while improving others.
A Welsh government spokesman said: "Communities across Wales are facing the double impact of cuts to public spending and a struggling economy.
"Despite this we determined to do all we can help those in poverty.
"That is why our tackling poverty action plan targets our resources to help people in our most deprived areas become better off, including focused help for households where no one has a job, a new target to reduce the number of young people who are not earning or learning and ambitions to improve people's health.
"We are not willing to just watch the cost associated with poverty escalate and believe we are doing more than any other government in the UK to tackle poverty head-on."