Children's Hospital of Wales closed due to rain damage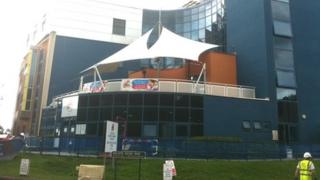 Wales' only children's hospital has been forced to close after heavy downpours led to significant flooding.
Eighteen patients at Cardiff's £10m Noah's Ark Children's Hospital for Wales were moved to wards at the University Hospital of Wales next door.
One senior doctor called it a "major incident" and said all four floors were affected by Monday's torrential rain.
The hospital is likely to be out of action for the rest of the week.
Cardiff and Vale University Health Board said patients were swiftly moved and nobody was injured.
A spokesman said despite the flooding, paediatric emergency and elective in-patient services remained unaffected.
The extent of the damage, particularly to the hospital's electrics, is currently being assessed and patients would only move back when it was safe to do so.
Dr George Findlay, clinical board director for children and women's services, said all four floors of the hospital had been affected by water that appeared to have come in from the top of the building.
"This is a major incident that we need to get to the bottom of," he said.
"It's seriously flooded the top two floors and subsequently the two floors below. So we have all four floors of the children's hospital affected by significant flooding."
Dr Findlay said staff had worked tirelessly to ensure the safety and wellbeing of their patients, some of who were discharged home.
"Our teams were superb in swiftly moving children out of the affected areas and identifying safe and appropriate areas within the main hospital as temporary accommodation," he said.
"No-one was injured in the incident and everyone has remained calm, with staff helping patients and their families settle in to their new environments.
"Our estates team is currently assessing the damage but it is likely the children's hospital will be out of action for the remainder of this week."
The patients have been moved to other child health areas of the University Hospital of Wales, where the children's hospital is based.
They are being cared for by staff from the children's hospital.
'Business as usual'
Dr Findlay said services offered by the children's hospital should remain unaffected but patients would be contacted by staff if that changed.
"We're open for business as usual," he added.
"We're providing all our emergency activity, we're providing all our planned activity and we will continue to do so until we get back into the children's hospital."
The £10m first phase of the children's hospital, where the flooding occurred, opened at the University Hospital of Wales in 2005 and included two 25-bed medical wards and one 16-bed paediatric cancer ward.
Building work is currently being carried out on the second £63.8m phase which will have new wards, critical care facilities and four operating theatres.