Right-to-roam maps updated after 10 years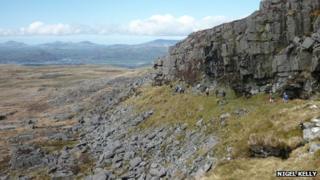 A map showing where people in Wales have the right to walk has been updated for the first time in 10 years.
By law Natural Resources Wales (NRW) has to review maps of open access to mountains, moors, heathland and registered common land each decade.
The updated map covers roughly the same amount of open access land - about 20% of Wales' land mass - as previously but includes some new access areas.
The current map is a proposal and land owners have the right to appeal.
The Countryside and Rights of Way Act gives walkers permission to roam over a total of 451,000 hectares (1.1m acres).
This is made up of 350,000 hectares (865,000 acres) of open country, particularly high open moorland, as well as common land and public forestry.
Much of the land is accessed walking away from the 40,000km (25,000 miles) of existing public rights of way.
The provisional map follows a consultation by NRW last year.
Provisional maps
It includes some new access areas and places where boundaries have been changed.
NRW spokesman, Richard Owen, said: "We have worked very closely with a wide range of people and organisations on the provisional maps but it's important that land owners now take a good look at them.
"We have already been in contact with the land owners that are likely to be affected by changes so that they are aware of the process and how they can engage with us if they have any queries.
"At this stage of the process only people with a legal interest, such as land owners, can appeal against what's in the maps."
Anyone wishing to appeal can contact the Planning Inspectorate and appeals must be lodged by 7 November.