Baby joy for Carmarthenshire woman after 10-year tumour fight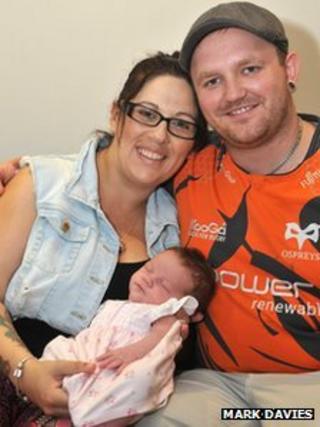 A 33-year-old woman who fought a decade-long battle with a brain tumour is celebrating the birth of the baby she was told she would never have.
Alexeanne Cherrington, of Penybanc, Carmarthenshire, also had a stroke during 10 years of heartache.
She was told the position of the tumour and the amount of radiotherapy she received meant she could not have children of her own.
But after IVF treatment she said she was "amazed" to have daughter Amelia.
Mrs Cherrington was just 23 when she was diagnosed with a "huge" brain tumour on her pituitary gland - which controls hormones - and was given months to live if she did not have major surgery.
Surgeons operated to remove the tumour, which was right in the centre of her brain, but they could not reach it all because it went so deep.
On the way out of the operating theatre at Morriston Hospital in Swansea, she said she passed away because of a blood clot on her brain and had to be revived.
It was then that she suffered a stroke, which left her with memory loss, epilepsy and unable to speak or move the right side of her body.
"They told my mum I would never walk again," said Mrs Cherrington.
"I had to have physio and speech therapy and I was in hospital for six months.
"We then found out mum had bowel cancer so we were dealing with that when my brain tumour came back in 2007."
Surgeons said this time it would be too dangerous to operate and Mrs Cherrington's only hope was to have an intensive course of radiotherapy.
"Afterwards I was told I was lucky to be alive but I would never have children because of all the radiotherapy," she recalled.
"In fact, I was told the same thing after they first discovered the brain tumour as it was on my pituitary gland, which controls hormones.
"I was absolutely devastated. I don't know how I dealt with it. I had to keep strong as my mum had cancer and my dad died in 2000. My mum later passed away."
Happiness and worry
But with the support of her husband Dean, who she married in 2008, she decided to explore ways of having children.
They rejected offers of surrogacy help from friends while numerous attempts at intrauterine insemination (IUI) fertility treatment failed.
But the couple struck lucky with their first attempt at IVF, finding out last September that they had a longed-for baby on the way.
Amelia was born on 25 June and Mrs Cherrington said she still cannot believe she has a child, although her happiness is tainted by worry.
"She's just perfect and I well up when I even think about her," said Mrs Cherrington, who still struggles with fatigue and mobility because of her stroke.
"But I am scared that she's going to have a brain tumour. I keep telling myself she'll be ok."
She also plans to have more children as she still has two frozen eggs that can be used.
"I have still got the brain tumour although my doctor has said it looks like it has shrivelled up and died," she said.
"But I still have the thought in my head that it's going to come back.
"But I have a beautiful child and husband so I just think live your life. I want to go forth and multiply."
Her husband Dean, a bus driver and plasterer, added: "I was with Alexeanne two years before we got married and it was hard watching her go through it all.
"But she's just a fighter and she wouldn't give up."