Darren O'Flaherty: Armed police hold Spain gun murder suspect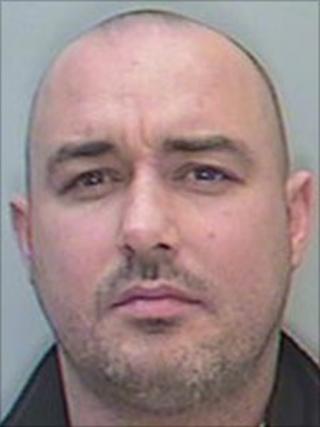 A man arrested by armed officers in a Gwynedd restaurant is wanted over a fatal shooting in Spain.
Darren O'Flaherty, 39, from Merseyside, was held by North Wales Police in Caernarfon at 19:15 BST in a joint operation with Merseyside Police.
Mr O'Flaherty is sought over the murder of Dublin holidaymaker John O'Neill at a wedding in the Costa del Sol in 2010.
In 2006, Mr O'Flaherty was charged with robbery and kidnap over a lorry hijacking in Bedale, North Yorkshire.
He was arrested at a Chinese restaurant in Caernarfon.
Following the arrest on Tuesday, North Wales Police Ch Insp Jeff Moses said: "This is a significant arrest following close working between ourselves and Merseyside Police.
"Due to the nature of the offences and the circumstances, it was necessary to utilise highly-trained armed officers from North Wales Police to effect the arrest."
Merseyside Police said Spanish authorities want to speak to him about the shooting of a man in Torremolinos in July 2010 and two attempted murder charges.
He is also the subject of an arrest warrant for a kidnap offence committed against a HGV driver on the A1 in North Yorkshire in October 2006.
He appeared before magistrates on Merseyside on Wednesday charged with a minor driving offence.
Other court proceedings regarding the more serious offences are expected to follow in Yorkshire.