A-level students offered helpline support from Meic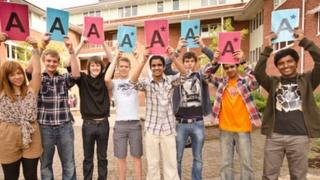 Pupils are being advised to seek advice instead of stressing about their expected A-level grades on Thursday.
The Welsh government is running a campaign to make young people aware that emotional support is on offer.
It provides £850,000 to support the Meic advocacy and advice service for children and young people.
University recruitment officials also urge teenagers not to panic if they do not receive the grades they hope for as places to study may still be available.
'Real difference'
Meic says it is able to provide emotional support as well as practical advice via its website or by calling 080880 23456.
Over 17,000 young people have used the 24-hour service since January 2011 with the number calls increasing by 25% around exam results.
It is run by Cywaith, a consortium made up of youth support organisations ProMo Cymru, Children in Wales, NYAS Cymru, Tros Gynnal Cymru and Voices from Care.
"For young people exam results are the focus and centre of their thoughts and the closer results day is the higher the emotion," said Rebecca Iddon, Meic helpline co-ordinator.
"We work with young people to look at the wider picture and empower them to put together several plans of action solidifying what they feel is most important to them."
Jeff Cuthbert, minister for communities and tackling poverty, said Meic has shown it can make a "real difference" to the lives of young people.
"This can be a very stressful time of year for young people as they wait for their exam results and they think about the options open to them as they prepare for the next stage of their lives," he said.
"We want to make sure they know they are not alone and have somewhere confidential, anonymous and free to discuss their concerns and help solve their problems."
University advice
Last year there were a total of 37,150 A-level entries in Wales, a fall of 1.9% compared with 2011.
The number of pupils who gained A* to E grades rose slightly to 97.6% in 2012 compared with 97.2% the previous year.
Julie Cowley, head of student recruitment at Wrexham's Glyndwr University, said students who fail to achieve their expected grades may still find a place to study through the university clearing system.
"On the day there will be thousands of students making fraught phone calls to admissions officers in an attempt to secure highly coveted places," she said.
"First, students who have narrowly missed their firm or insurance places by a slight grade drop shouldn't be afraid to call the university directly and explain the situation.
"Universities can be sympathetic and teams of advisers will be able to offer guidance and give a decision, often immediately."