'Don't panic' message ahead of A-level results day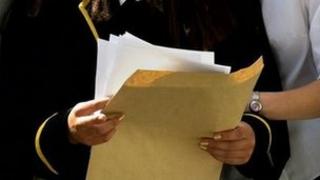 On Thursday morning, thousands of youngsters in Wales and beyond will find out if all those hours of revising have paid off.
For most the path will be clear - they will get the A-level results they wanted and go on either to university or to the world of work.
But others will have a more difficult time of it. Maybe the grades were not quite as high as they had hoped.
The message for those young people is quite clear - don't panic.
Tim Guy from Coleg Cambria in Wrexham says even if students do not get the grades they want, all is not lost.
"There'll be several hundred students coming here tomorrow to pick up their results.
"For most of them, the A-level results is a gate into higher education, so you almost forget what you got in your A-levels."
Spare places
He explains that the process of university clearing gives many youngsters another chance to find a place to study if their grades were not as good as those required.
"A lot of students think if they don't get exactly the offer they had from the university that everything is lost.
"But it's definitely our experience that, through clearing, if a student gets a busy [phone] line tomorrow, they'll usually get a place by the weekend.
"They do need to take a little bit of time to consider what to do because they have to make sure that the course and the university are right for them, and some students do ultimately decide to wait another year."
Lydia Roberts has been working in a restaurant in Llangollen over the summer as she waits for her results.
She is hoping to go to Oxford University to study politics if she gets the grades, but knows university is not for everyone.
"It depends which path you want to go down," she said.
"I think if you want to do an apprenticeship and do something like hairdressing that's a really good way to go if you don't want to go to university.
"But for me, I much prefer academic pathways and things like that, it's much better for me."
Year out
Aaron Davies is a lifeguard at Plas Madoc swimming pool near Wrexham.
He got his A-level results last year but has taken a year out before going to the Central School of Speech and Drama in London.
"I took a year out (a), to save money and (b), I really wanted to go to the university I wanted to go to which is Central, which is important to me.
"So I've spent the last 12 months working here saving up money to go down to London... I think it's very important.
"It's hard enough with the pressure from the course being so full on so spending a little bit of time to get the money together just makes it a lot easier for you once you get into university."
Students who go to Welsh universities are more likely to have a job within six months of graduating than any other part of the UK.
Having said that, they tend to get lower salaries for their first job after graduating - £19,500 as opposed to the UK average of £21,000.
Training options
But what if things do not go to plan and your A-level results are not nearly what was hoped for?
That is where bodies like Careers Wales and others can help, according to careers advisor Rosemary Allen.
"The first thing to do is not to panic, and think carefully about their options because there are a lot of different routes they can take," she says.
"It might be that they can go through clearing and get something there. It might also be that they look at things in the workplace.
"So there may be apprenticeships available where they can train on the job, and get some qualifications. There's also Jobs Growth Wales where they can get six months work experience.
"Some of those we have at the moment are actually undersubscribed. So there are a number of opportunities across Wales."
Mike Adcock has just finished working in a bike shop in Wrexham but now he is turning his attention to much bigger machinery with an apprenticeship with excavator manufacturer JCB.
He said: "It enables me to earn money whilst I'm learning. It also gives me some free time, which is great at my age as I don't have to take another job.
"There's a job prospect at the end of it, which enables me to see there's light at the end of the tunnel and see there's something developing, which is good for me as a person."