Family's hope over 50-year mystery of missing John Charles Jones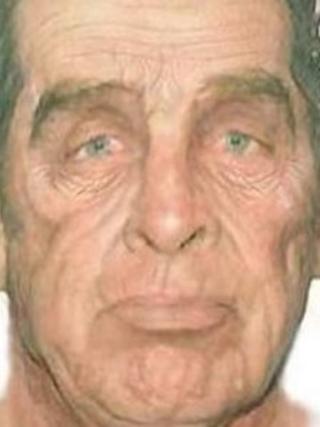 The 50-year mystery of a Welsh father who disappeared nine months after emigrating to Australia is being re-investigated by police.
John Charles Jones from Newport emigrated with his wife and eight children and settled in Victoria.
But on 10 February 1963, he said goodbye to his eldest daughter, went to work and never came home.
Now police in Australia are examining the possibility he may have returned to Wales and have asked for information.
A televised appeal for information about what happened to Mr Jones has been featured on Crime Stoppers Australia.
Mr Jones, who would now be aged 91, emigrated nine months after settling with his wife Janet and their children in the small town of Shepparton, Victoria about 100 miles (160 km) from Melbourne.
He worked as a linesman with the Post Masters General.
His daughter Janice Innocenti told BBC news about the last time she saw her father.
The then 15 year old remembered how he told her the small suitcase he was carrying as they walked to the bus stop together contained dry-cleaning.
Mrs Innocenti, now 66, said she did not realise the significance of the suitcase at the time.
"It was very unusual. He didn't usually take a suitcase to work and he just said that he was taking his suit to the dry cleaners. I didn't think anything of it at the time - you don't, do you?" she said.
They had breakfast together and then walked to the bus stop where Mrs Innocenti caught the bus to work at a woollen mill.
"Nothing was out of the ordinary other than a small suitcase he was carrying," she said.
"I asked him about the case and replied that he had a suit in it for dry cleaning.
"And that is the last memory I have of my father.
"When I came home from work, that's when I found out he had disappeared."
It is understood Mr Jones did go to work that day because he was seen at the railway station.
"It was pay day and if he was going to go anywhere he would have had to go to work to get his money," Mrs Innocenti said.
The family was thrown into a state of shock and his wife was forced to bring up the large family, including a new baby, alone.
"For months we were just waiting. Mum went to the Baptist church. I think the minster there gave her some advice on what to do," she said.
"Mum never ever spoke about that sort of thing - it was all kept secret from us kids. She was a closed person."
With the main breadwinner missing, the family suffered financially.
"It was very hard on us. I was working and then my brother Jack, who was 14, had to finish school to work. He was able to work and help us with the money side of things," Mrs Innocenti said.
"A lot of things have been blocked out.
"I think we just grew up thinking if he's going to come back he will just come back. After he had gone a few months I thought we have to make the best of it. "
Homesick claims
Mrs Innocenti said she and her father were not really close.
"For the first seven years of my life dad was in the army so I didn't really know him until I was about seven and then he left when I was 15," she said.
She said the family were keen to find out what happened to Mr Jones whose wife, Janet, 86, has dementia and lives in a care home.
Victoria Police suggested Mr Jones was homesick and may have returned to Newport, but his daughter was doubtful.
"I don't remember him ever saying anything like that because he was the one who wanted to come here - mum didn't want to come and leave her family.
"He wanted to bring us out here for a better life."
Mrs Innocenti said she and her family now needed closure.
"I think he might have died. I sometimes think if he had been alive he might have tried to contact us again,"
"The only place I think he would've gone to was Melbourne - he could have gone anywhere from there."
Mr Jones was born at the Woolaston House infirmary in June 1922 in Newport and grew up in the city. It is understood, some time after 1954 he moved to Scotland with his wife before leaving for Australia in 1962.
At the time of his disappearance, Mr Jones was around 5ft 9in (1.77 metres) tall, medium build with hazel eyes and a Welsh accent.
Police are urging anyone with information to call Crime Stoppers Australia on 1800 333 000 or visit its website.