BBC Wales unveils Cardiff and Swansea football coverage plans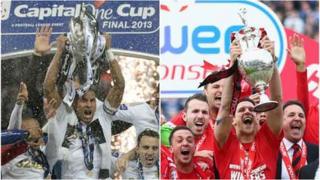 Plans have been unveiled for fans of Premier League Cardiff City and Swansea City to follow their teams across the season on BBC Cymru Wales.
Fans in those areas can listen to live FM commentaries on Radio Wales while Radio Cymru's south Wales FM network will transmit comprehensive live coverage in Welsh.
A new nightly edition of Radio Wales Sport will run from Mondays to Fridays featuring commentaries and interviews.
There will also be a new phone-in show.
"We're sure that all Welsh sports fans will be absorbed by the progress of Swansea City and Cardiff City in the Premier League this season," said Geoff Williams, BBC Cymru Wales head of sport.
"BBC Cymru Wales Sport will be the go-to place to keep up with all the action and news throughout the season.
"We will be offering full match commentaries on BBC Radio Wales and BBC Radio Cymru, comprehensive news, views and reactions on radio, our Sport Wales programme on television, and online coverage throughout the season."
Both radio stations will also broadcast a small number of commentaries on all frequencies across the whole of Wales, including Cardiff City v Manchester City on Sunday, 25 August and the first south Wales derby on Sunday, 3 November.
They will also offer live commentary of FA Cup, League Cup, Football League, Conference and Wales internationals throughout the season.
A new radio sports phone-in on Saturday evenings will feature this year's Welsh sports journalist of the year, Rob Phillips.