Stained glass window for Merthyr Tydfil town hall revamp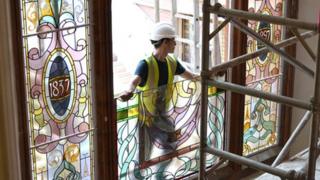 The finishing touches are being made to an £8m restoration of Merthyr Tydfil town hall with new stained glass windows installed in the lobby.
The 13 panels are made by experts from Swansea Metropolitan University's School of Architectural Glass.
They mimic the scene of Queen Victoria's Diamond Jubilee depicted in the original windows, but in fewer pieces.
The restoration at the 115-year-old building has taken two years.
Rob Thomson, from the town hall restoration project, said: "It looks amazing already with just half of them in, so I really can't wait to see it completed.
"They're at the head of a Y-shaped staircase in the lobby, and the brilliant yellows and greens are the very first things which hit you as you walk into the building."
He believes the concept is symbolic of the fortunes of the town.
"It's really quite fitting to see the windows going in as everything achieved here is testament to the broken window philosophy," he said.
"Before we moved in, the hall had been standing empty for 11 years and its decay had come to symbolise the way residents felt Merthyr as a whole had been neglected and forgotten.
"Hopefully now it's going to be a state-of-the-art community facility, it'll help make people proud of their town again."
The project has balanced modernisation with a sympathetic restoration of a Grade ll-listed building.
Outwardly the roof and distinctive terracotta facade had to be returned to exactly how they would have looked in 1898, but inside much has changed.
It includes a cafe, gallery, recording and dance studios, computer room, workshops and a performance area which has a glass dome over the 19th Century courtyard.
The original building took 35 years to build and is steeped in history.
In 1966 it became the administrative centre after the Aberfan disaster. A total of 144 people, including 116 children, died when a coal waste tip slid down a mountain and engulfed a school and surrounding houses.
However, in 1993, after the opening of Merthyr's civic centre, the town hall was turned into a nightclub despite protests.
And when the nightclub's licence was refused in 2000 it fell into disrepair.
Mr Thomson said the town hall would get a grand opening on St David's Day next year.
"We can't say too much as it's all still in the planning stage but there'll be attractions and family activities and we're hoping that there'll be a homecoming of some of Merthyr's most famous sons and daughters to help us celebrate," he said.