Welsh Music Prize unveils 12-strong shortlist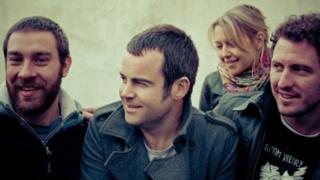 Styles ranging from folk rock to hip hop on albums by new and established artists are included on the shortlist for the third annual Welsh Music Prize.
2011 winner Gruff Rhys is nominated again in the guise of Neon Neon for the album Praxis Makes Perfect.
Award founder and Radio 1 presenter Huw Stephens said the shortlist was "an eclectic and exciting one" with the winner due to be announced in October.
The twelve contenders hope to emulate Future Of The Left who won in 2012.
The shortlist of albums was drawn up by a panel of 100 people involved in the Welsh music scene.
Their choice includes both new and established artists, and material sung in English and Welsh.
The 2013 list includes a variety of acoustic-influenced song writing but also Metabeats, a Barry-based beats and hip-hop artist who gathered vocalists and MCs from across the UK and US for his project.
There are also established figures from the Welsh music scene in Gruff Rhys's Neon Neon - whose album was involved in a performance collaboration with National Theatre Wales - and Euros Childs of Gorky's Zygotic Mynci.
John Rostron, promoter and co-founder of the prize, said: "We know that people from all over the world use it as a starting point to dive into new music from Wales.
"It's wonderful that the Welsh Music Prize has begun to help acts from Wales reach new international audiences."
"Everyone should dip into this list and try some records that might be new to them."
Stephens said the judges had spoken up for the albums they felt "deserved a greater platform".
Cardiff-based four-piece Future of the Left won the 2012 award for their album The Plot Against Common Sense.