National Theatre Wales unveils Treorchy residency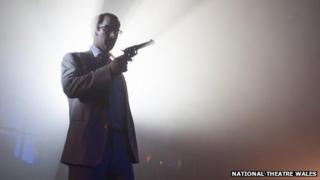 National Theatre Wales has announced plans to hold a month-long residency in a south Wales valleys town in October.
It will use Park & Dare Theatre in Treorchy, Rhondda Cynon Taf, which is a former miners' institute.
Highlights include a premiere of Tonypandemonium - an autobiographical play by Rhondda-born Rachel Trezise, the Dylan Thomas Prize-winning author.
This will be National Theatre Wales' (NTW) fourth residency of the year.
The first was in Butetown in Cardiff in March, which was followed by a trip to Japan and then a return to Wales for a residency on Anglesey.
Established in 2009 and having no "home" theatre, the company has earned critical acclaim for involving audiences and taking productions out into the community and also to unusual venues.
Recently, a play about Bradley Manning was critically acclaimed at Edinburgh, while Praxis Makes Perfect was a multi-media link up with musician Gruff Rhys of electrobeat duo Neon Neon.
Last year, a modern-day performance of Shakespeare's Coriolanus was held in an aircraft hangar at St Athan in the Vale of Glamorgan.
And two years ago, Hollywood actor Michael Sheen's "crucifixion" scene was the grand finale to his 72-hour performance of The Passion, NTW's production on the streets of Port Talbot.
The NTW's residency at Park & Dare in Treorchy in October coincides with the building's centenary.
The construction in 1913 was funded by the mine workers of the local Park and Dare Collieries.
The two were merged in 1955 and despite the closure of both mines in 1966, the theatre remains the cultural hub of the area.
Events will include staging of a new version of Brecht's Mother Courage, written by creative director Ed Thomas and a special event to celebrate the centenary of Rhondda-born poet and writer Gwyn Thomas' birth.
A two-day festival of new writing called Dirty, Gifted and Welsh is also being held.
NTW artistic director John McGrath said: "The writing talent emerging from Wales at the moment is extraordinary, and we hope this, our fourth and final residency this year, will showcase the very best of what Treorchy and the whole of the Rhondda valley has to offer."