Further education colleges face more funding cuts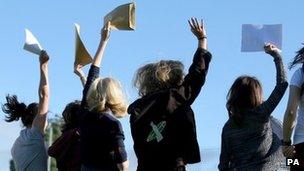 Further education (FE) colleges are bracing themselves for a second round of funding cuts, BBC Wales can reveal.
Budgets for the new academic year were cut unexpectedly by 1.5% in the summer and institutions have now been warned about cuts of "at least 5%" in 2014/15.
Education Minister Huw Lewis has written to the sector saying a final decision has not been taken.
The body that represents FE colleges said it would be difficult for them to cope with the cuts.
The Welsh government is in the process of drawing up its spending plans and a clearer picture is expected to emerge when it publishes its draft budget in the autumn.
In a letter to principals seen by BBC Wales, Mr Lewis said FE funding had been under discussion since UK Chancellor George Osborne's spending review in June.
"To date, although no firm decisions on future budget settlements have been taken, institutions have been told to plan on a reduction of at least 5% in 2014/15," he said.
"Further information will be available when the next draft budget is published in October and the Welsh government will work closely with Colegau Cymru to minimise the impact of any reductions on learning."
Colegau Cymru, the body that represents FE colleges, said the sector had already had to make savings after a series of "tough" budget settlements had failed to keep pace with inflation.
Its chief executive John Graystone said: "That (5%) is a big cut for colleges.
"That represents something around about £15m to £20m so it's going to be difficult for colleges to deliver to their current agenda, their current profile with that sort of level."
With colleges facing the twin demands of tackling disadvantage and delivering skills, he said they would need to "weigh up both of those key priorities and see where they go with each of those".
It comes after FE colleges were told over the summer that they would be getting an unexpected funding cut of 1.5% this year, taking their Welsh government funding to around £310m.
Mr Lewis said he acknowledged the concern about budget cuts, in particular the "late revision and notification of the 2013/14 allocation".
Related Internet Links
The BBC is not responsible for the content of external sites.