Celsa steel buys Llanishen and Lisvane reservoirs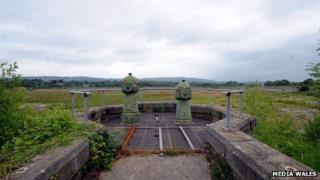 A Cardiff reservoir at the centre of a decade-long planning saga has been sold to a steel company.
Both Llanishen and Lisvane reservoirs have been bought by Celsa UK, which owns Tremorfa steel works in the city.
Western Power Distribution (WPD) lost a bid to build 324 houses at Llanishen reservoir, which was emptied in 2010.
It is not known if Celsa plans to refill Llanishen but it aims to continue to use Lisvane to supply water to its plant.
Luis Sanz, managing director of Celsa Manufacturing UK, said: "As you can imagine the primary focus for us at this time has been the acquisition of the reservoir for the water it supplies us.
"This has been our goal."
Campaigners said the reservoir had become a nature habitat and have hailed the development as a "new era".
Dr Richard Cowie, chair of the Reservoir Action Group (Rag), gave a cautious welcome to the news.
"We are reasonably encouraged," he said.
"We've heard that Celsa are working with the Wildlife Trusts of Wales and that is very encouraging if they are in a partnership - it shows good corporate responsibility."
The power distribution company WPD inherited Llanishen reservoir when it bought the former utility company Hyder.
Since 2002 it has tried unsuccessfully to build houses on the site.
Each proposal has met stern resistance from environmentalists, local people and politicians.
Now WPD has sold the site to Celsa, the company which runs the rod mill in Cardiff Bay.
Cardiff North AM Julie Morgan, a long-time campaigner on the reservoir, tweeted: "Letter to my office from WPD states it has sold Llanishen and Lisvane reservoirs to Celsa Wales Ltd.
"Good news, a new era."
She told BBC Radio Wales: "I'm very hopeful that the reason they have bought it is to ensure a water supply, which means that hopefully we will get the water back in Llanishen reservoir.
"We can get sailing up and going again, we can get the fishing up and going again and we can restore it to what it was before."
Llanishen reservoir had a strong track record for training Wales' young sailing talent.
Star sailors who learnt the ropes at Llanishen include 2012 Olympic silver medal winner Hannah Mills, 25, from Dinas Powys, and Cardiff-born British Sailing Team member Dave Evans who is campaigning for Rio 2016 in the 49er class.
In a statement Celsa UK, said it acquired the reservoirs and surrounding land last Friday.
It said: "Lisvane reservoir has supplied non-potable water to the steel works from since it began operating and the purchase by Celsa of Lisvane reservoir will help protect and maintain that supply and is an important step in ensuring the sustainability of the steel works."
The firm employs around 3,000 people in the area.
'Access and recreation'
In February 2011, the High Court in London overturned Cardiff council's decision to designate the land for nature conservation.
The council had designated the land under the National Parks and Access to the Countryside Act 1949, which gave priority to nature conservation over public access and recreation.
But the Public Health Trust Act 1875 already imposed a statutory trust over the land, giving priority to public access and recreation.