Guide dog owners' anger over access to shops, cafes and transport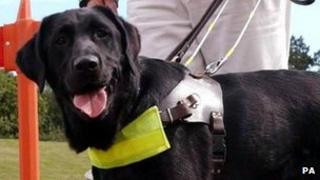 Guide dog owners are being refused access to shops, transport, cafes and other venues when going about their daily lives, a charity says.
Complaints have risen by more than a third since last year according to research by charity Guide Dogs.
The largest number of reported incidents involved eateries, with restaurants the worst offenders.
Nathan Redmond of Guide Dogs Cymru said some problems were caused by staff acting on their own initiative.
"Sadly it's the way it is for many guide dog owners and I've experienced it myself," he told BBC Radio Wales.
"You may have a sign that says all dogs are not allowed apart from guide dogs but you're actually still relying on the staff to actually carry out that order.
"In my own experiences I've had trouble going into major supermarket chains with the security staff trying to turn me away with a dog when of course they will all have a policy in place that says guide dogs and assistance dogs are welcome."
Mr Redmond added that owners had also had problems at restaurants and cafes.
"It can go from something that sounds like it's not a refusal of service, so being told that you can only sit outside or being told that you have to sit in another room where there's perhaps no-one else and you can't sit where you'd like," he said.
"It's against the law and ignorance of the law is never a defence.
Public transport
"We have a protected characteristic under equality legislation and you can't deny service to anybody who has one of the protected characteristics, and for us it falls under disability."
The report, which takes into account almost 400 complaints in the UK received by the charity, showed that public transport was the next biggest offender.
Mr Redmond said the charity wanted to work with companies about how they could help give blind and partially-sighted people a better customer experience.
"For a long time guide dog owners would try and fight these battles on their own," he added.
"But as engagement officer it's me who would pick up the access issues that people would experience in Wales and I will help them try and deal with that and find a resolution.
"I must say 90% of the cases in Wales we do get [result in] a positive resolution.
"We do have a lot of issues in Wales with public transport. I'm dealing with issues at the moment with guide dog owners being told they can't get on the bus because there's already a dog on the bus and they have a one-dog policy which is not true at all.
"Again it's the employee acting on their own initiative."
The report was published ahead of Guide Dogs Week from 5 October which aims to raise awareness of the challenges faced by guide dog owners in getting around.