Wales unemployment falls by 7,000 to 118,000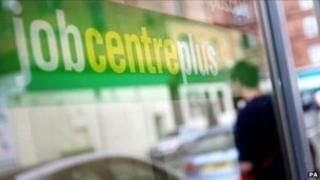 Unemployment in Wales has fallen by 7,000 in the last three months with 118,000 people out of work, the Office of National Statistics (ONS) has said.
The rate has fallen from 8.4 to 8%, while the figure is 14,000 lower than the same period last year.
The number of people in employment in Wales is up by 1,000 and there has been a 1,500 fall in those on Jobseekers Allowance since July to 71,800.
The Welsh secretary said it showed UK government policy was working.
David Jones said the drop in unemployment was "significant and very welcome".
'High quality jobs'
"To echo the words of the chancellor in his speech earlier this week, this steady improvement in employment figures show that the economy is turning a corner and that our economic plan is working," he said.
"While there is still some way to go, we are building a balanced, sustainable and broad-based recovery that works for people in Wales and ensures Britain can compete in the global race."
The Welsh government said the statistics were "encouraging" and part of an upward trend in employment and economic conditions.
However, in a statement it added: "...while we continue to outperform the UK as a whole, over the year, the outlook for growth, although improved, is still uncertain.
"This uncertainty continues to have a severe impact on jobs, especially youth unemployment, and that is why we continue to be focused on supporting the creation of high quality jobs in Wales."
Apprenticeships
Janet Jones from the Federation of Small Businesses Wales welcomed "another heartening sign that the Welsh economy is finally moving in the right direction".
"We know from our own surveys of members that confidence is improving, but there appears to be still some way to go before the majority of small businesses feel in a position to expand their workforce," she said.
"Hopefully initiatives such as the UK government's National Insurance Allowance and the Welsh government's additional funding for apprenticeships through the Young Recruits Programme will encourage more small firms to take on staff in the coming months."
Alex Bevan from the trade union umbrella body, the Wales TUC, said it was good to see unemployment falling but warned work was becoming "increasingly insecure".
He said pay kept falling behind price rises, leaving many working people "stuck in a living standards crisis".
"In many parts of Wales it is still much harder to find a job than it was before the financial crisis," he said.
"TUC research has shown that the conventional measure of UK unemployment masks the true scale of unemployment which is actually close to double the official figure."