Doubts over benefits from Public Health Wales projects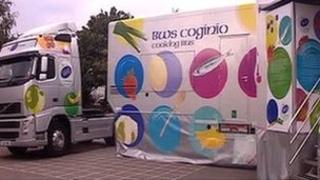 About £1.5m of public money was spent in Wales over the last year on 10 projects that were unlikely to bring any health benefits, a report shows.
Experts cast doubt on the benefit of schemes such as a £655,000 a year cooking bus and anti-smoking projects costing thousands.
Shadow Health Minister Darren Millar questioned Welsh government funding "harebrained schemes".
Public Health Wales (PHW) acknowledged it needed to do things differently.
Meanwhile, ministers welcomed the review.
Experts examined the efficiency and impact of 25 public health projects, which are funded by the Welsh government and PHW.
Their report said 10 of these did not appear to have any health benefits and alternatives should be explored.
They included a Cooking Bus, which visits schools to promote healthy eating and cooking, and cost £655,000 to fund in 2012/13.
Other projects identified as bring poor value for money were anti-smoking schemes, such as a smoking helpline, breastfeeding support groups and a scheme to raise awareness about skin cancer.
Concerns were also raised about another nine projects - costing more than £9m in total over the last year - where the experts said more evidence was needed to see whether they have had any impact.
The panel concluded that none of the 25 initiatives should receive extra future funding from the Welsh government.
Mr Millar said the public should be concerned about what the Welsh government had been spending public money on.
"You have to question when you look at some of the case studies in this report, particularly the cooking bus, what on earth the business planning process was like in the first place that approved these sorts of schemes?" he said.
"Every pound really does count and spending millions on harebrained schemes like the cooking bus I think the public will quite rightly question what on earth the Welsh government's been doing with their money."
Dr Patricia Riordan, director of health and healthcare improvement for PHW, said the way money was spent on public health projects needed to change.
"I think it's a concern when you are made aware through the evidence that your resources have not been targeted appropriately and this is what I say - we need now to refocus those resources to programmes that we know deliver the outcomes," she said.
"What we are doing today in Public Health Wales is acknowledging that we need to do things differently now.
"It is no longer acceptable to do things the way we did them in the past - we need now to look forward to a whole transformational change."
She added: "Any programmes of work that we now progress going forward right from the outset will be designed to collect data to determine if we are achieving the health outcomes that we set out to achieve - and they will be consistently monitored as we go forward."
Despite the damning report, the experts did highlight a number of public health initiatives that were working well.
These included the National Exercise Referral Scheme, Stop Smoking Wales, and the National Breastfeeding Programme - Baby Friendly Initiative.
The Welsh government said it welcomed the "extensive review" of public health schemes.
"It is essential in times of restricted budgets that we use every penny wisely and that investment in public health schemes leads to real benefits to people's health," a spokesperson said.
"We look forward to receiving PHW's proposals for refocusing initiatives."