RNLI: Four volunteers from Wales in US flood rescue exercise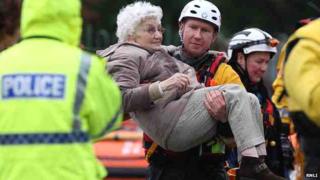 Four RNLI volunteers from Wales are heading to the United States to train alongside the fire service in a flood rescue exercise in North Carolina.
The four members of the charity's international flood rescue team will spend a week training alongside Charlotte Fire Department.
A total of 38 from the RNLI in the UK are taking part in the exercise.
It will test the life-saving group's deployment process and logistics, equipment and working overseas.
International flood rescue team members are either serving volunteer lifeboat crew or operational staff.
Share expertise
The team was formed in 2000 following the Mozambique floods which affected thousands of people.
The team is able to respond to any incident of inland flooding anywhere in the world within 24 hours, says the RNLI.
The four from Wales heading to the US are Bryn Harrison from Aberystwyth lifeboat, Paul Eastment, an RNLI divisional assessor and crew at Porthcawl, Timothy Brodie, a systems technician and Matt Crofts, a divisional operations manager, who are both based in St Asaph.
Mr Harrison joined the flood rescue team in 2005 and helped evacuate people during the Cockermouth floods in Cumbria in 2009, where over 200 people were rescued, and the St Asaph floods in November last year.
"It's exciting to be able to train alongside other emergency services and share expertise," Mr Harrison said.
"Training is such an important part of what we do, and we're lucky that the RNLI invests heavily in this and the right equipment so that we can react to an emergency flooding situation should it occur."
The RNLI said Charlotte Fire Department and North Carolina Emergency Department were paying for the large-scale exercise, leaving the RNLI with only its travel, fuel and food costs.
Robin Goodlad, flood response manager at the RNLI and volunteer crew member at Aberdovey in Gwynedd, said: "The opportunity to train alongside these globally-respected organisations who have had experience at numerous major flood events will be of huge benefit to the RNLI.
"Similarly, we will bring our 190 years of water rescue expertise to share with our US counterparts."