Welsh Conservatives: Leader says party has 'solutions' for Wales problems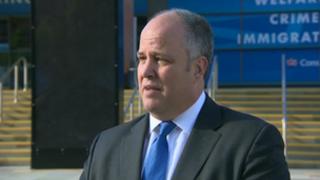 The Conservatives have the "appetite and the solutions" to deal with the problems facing the people of Wales, said the party's assembly leader.
In an interview with BBC Wales as the Conservative party gathered for its conference in Manchester, Mr Davies said change was needed.
He claimed that after "13 years of stagnation in Wales" there was "the dead hand of Labour around the throat of the economy".
Welsh Labour has been asked to respond.
"The Welsh agenda is about bringing real change to Wales, holding First Minister Carwyn Jones to account and making sure that people know that there's an alternative," Mr Davies told Sunday Politics Wales.
He said his party had brought forward many policies for Wales in the past 12 months
"Invest in Wales is about getting finance to business and regenerating our High Streets. (We've been) talking about what we would do via taxation to stimulate the Welsh economy and bringing back grammar schools," he said.
"That's an opposition that has an appetite and the solutions to deal with the problems that the people in Wales face. I don't hear it from anyone else".
He added: "We need to change things in Wales and the Welsh Conservatives are up for that fight".
Mr Davies was also questioned about the delay in the UK government's response, originally due in the spring, to the Silk Commission report calling for more tax varying powers in Wales.
Mr Davies said: "Ultimately it's the Conservative-led government in Westminster [who have] to deliver the referendum on primary legislative powers to the assembly.
'Taxpayers' money'
"We have a government now in Cardiff Bay that has full executive responsibility and an assembly that can make primary legislation. And I believe a couple of weeks waiting for Silk will make no difference."
Mr Davies added that everyone was "signed up to making sure that there's accountability and responsibility through the amount that is spent in Wales".
"This is taxpayers' money and what we have at the moment is a government in Cardiff Bay that fritters valuable taxpayers' money away... and has no accountability or responsibility for the way it's raised," he said.
"So we will get there but I think it's important when the package is delivered it is a complete package and it is a package that will deliver the responsibility that we all want to see given to Cardiff Bay."