Welsh Secretary David Jones blames red tape for new homes fall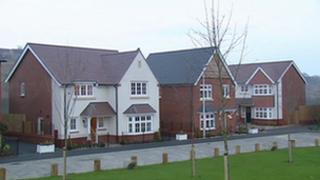 Welsh Secretary David Jones has blamed Welsh government red tape for a fall in the number of new homes built.
Mr Jones said figures showed there were 32% fewer homes registered in Wales in the year to May to July this year. In England they were up by 34%.
He said that regulations on builders are "considerably more onerous than in England", such as fitting new homes with sprinkler systems.
But the Labour AM behind the sprinkler plan insisted they would save lives.
Speaking at the Conservative Party Conference, Mr Jones said over-regulation was to blame for the fall in new homes being built in Wales.
"Regulations on builders are considerably more onerous than in England - including the bizarre proposal to fit every new house with a sprinkler system," he said.
"The consequence of this over-regulation is that fewer houses are being built in Wales."
In a message to ministers in Cardiff Bay, he added: "Cut the red tape that is pushing builders out of the Welsh market.
"Use devolution as something that can give Wales a competitive edge in the global race, rather than as an excuse to regulate."
His comments come after two of Wales' biggest housebuilders, Redrow and Persimmon, both hit out at the Welsh building regulations.
Persimmon announced last week that it is to stop building homes in parts of the south Wales valleys.
It said the sites do not make money because of low sales prices and added costs brought about by Welsh government red tape, including environmental regulations, which it claims add £3,000 to the cost of building a house, compared with many parts of England.
Fellow developer Redrow said last year that parts of the country risked becoming no-go areas if tougher building regulations were introduced in Wales.
However, Vale of Clwyd AM Ann Jones, who steered through the sprinkler legislation in the Senedd, said Mr Jones was "obsessed with denigrating fire sprinklers".
"He has repeatedly spread disinformation about the law and the effect it will have on the house building industry," she said.
She said the assembly's finance committee had previously scrutinised the plans and said there was no evidence that the costs would have a significant impact on the housing market.
Mrs Jones added: "I am shocked and appalled that David Jones thinks that saving lives is bizarre. The installation of sprinklers is designed to do one thing: save lives.
"Too many lives are lost and homes devastated as a result of house fires."
A Welsh government source accused Mr Jones of spending his week at the Tory conference "talking down Wales".
"Instead, he should be explaining why he has become a roadblock to boosting the construction sector and growing the Welsh economy, by adamantly opposing the devolution of stamp duty to Wales," the source said.
"It's now clear David Jones is now running out of allies. He has put himself at odds with [London Mayor] Boris Johnson, who has called for to stamp duty to be devolved to London - for precisely the same reasons we want it devolved to Wales.
"He repeatedly talks of more onerous regulations in Wales than in England - without producing any evidence to back up this claim.
"On sprinklers, he is also at odds with his own party colleagues in the Welsh assembly, who voted for the legislation.
"He is also contradicting the views of his cabinet colleague, [Communities Secretary] Eric Pickles, who believes that 'domestic sprinkler systems can save lives and that is a price worth paying'. We agree."