Cardiff-Swansea derby: 'Keep rivalry under control'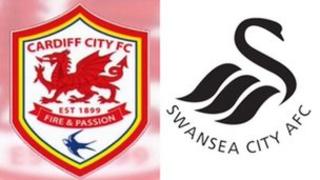 Cardiff City and Swansea City supporters' trusts are calling on fans to keep club rivalry friendly, a month ahead of their Premiership derby match.
The two clubs meet in Cardiff on 3 November - their very first derby in top flight football.
Historically, the two sets of fans have been prone to letting tensions spill outside of their grounds.
It led to fans from both clubs being banned from away derby fixtures during the 1990s.
"These are exciting days for Welsh football. We have been looking forward to this fixture for years and the match will be a showcase for the two cities and also for Wales," said Tim Hartley, chair of the Cardiff City Supporters' Trust.
"We want the derby to be remembered for all the right reasons - plenty of thrills and high quality football between two great rivals played in the right spirit. So we are saying to fans, support your team, but please ensure at all times you do it in the right way."
Phil Sumbler, chair of Swansea City Supporters' Trust, added: "It will be a passionate and noisy encounter and a chance for fans on both sides to showcase what is best about South Wales' two Premier League clubs.
"It is important to ensure all post-match discussions are about the action on the football pitch and I hope all in the stadium enjoy what will be a fantastic occasion."