SSE 'out of touch' over gas and electricity price rise says Labour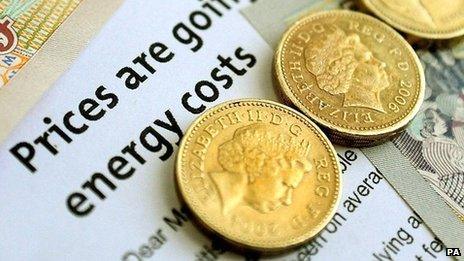 Energy giant SSE has been accused of being "out of touch" after announcing a hike in gas and electricity prices.
The energy giant SSE, which owns Welsh supplier Swalec, announced it was putting up prices by an average of 8.2% next month.
But Shadow Welsh Secretary Owen Smith said the rise was "breathtaking," given the difficulties customers were facing.
The company blamed the rising cost of wholesale energy and the cost of delivering it.
SSE also said it had to pay for more infrastructure, for UK government schemes to help those most in need and green levies.
Its price rises will affect about 4.4 million domestic electricity customers and 2.9 million domestic gas customers in the UK.
The other big five energy suppliers are expected to follow suit.
The UK government said it was disappointed but said greater competition was the long term answer.
Labour flicked the switch on the debate when the party promised to freeze energy prices for two years if they won the next general election.
Mr Smith said: "It's breathtaking that they can be so out of touch with the difficulty that consumers, electricity customers, gas customers, are experiencing in Wales right now and that, on the back of making record profits last year, they can tell us they need to put up prices by a further 8.2%, having put them up 9% last year."
Mr Smith, who was speaking on BBC Radio Wales, said communities and and society in Wales was suffering at the moment and the energy companies were making it worse.
Labour leader Ed Miliband, who pledged a price freeze for 20 months if his party wins the next election, described SSE's price rise as a "scandal". He accused the UK government of "letting energy companies get away with this".
SSE's Will Morris said on Thursday he understood customers' frustration.
"We're sorry we have to do this," he said.
"We've done as much as we could to keep prices down, but the reality is that buying wholesale energy in global markets, delivering it to customers' homes, and government-imposed levies collected through bills - endorsed by all the major parties - all cost more than they did last year."