Walk on Wales: Veterans' relay around coastal path ends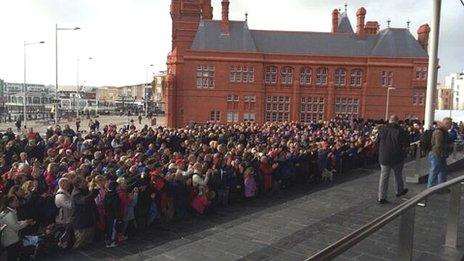 More than 300 people finished the final stage of a walk around Wales to raise money for service veterans.
Around the same number of people greeted them when they arrived at the Senedd in Cardiff Bay for a service
Jan Koops, co-founder of Walk on Wales, a former Welsh Guards officer who served in the Falklands, was one of four who walked all of the 870 miles.
Each leg of the walk, which set out on 25 August, has served to remember Welsh veterans.
Mr Koops told BBC Radio Wales: "There are 50 names which have been beautifully inscribed on a silver baton and each day we have commemorated one of those names on the back and where possible the families have been walking with us.
"The whole journey in that way has been truly exceptional and very inspirational and there's a real sense of bringing them home spiritually while we've been walking around the path, which has been shared with the walkers who have joined us."
He said the response has been "humbling" including from primary school children joining the walk.
One of the four to complete the whole walk was Alison Elson, whose Welsh Guardsman stepson, L/Cpl Dane Elson, 22, died when he stepped on a mine in Afghanistan in July 2009.
She said: "I just want to do something in his memory and to raise funds for his colleagues and friends who have come back with life-changing injuries.
"I met one or two Welsh Guards who had served with Dane. It was good to hear stories about him and what he got up to in the Army."
Mrs Elson described the walk as "therapeutic" but said she still felt the grief and loss of step-parents were overlooked.
She said: "I think it is just society in general, there is this view that if you haven't given birth to a child you couldn't possibly love him the same.
"He was just an innocent child who needed to be loved. He was adorable - he was naughty - but he was adorable."
The walk's aim is to raise a £1m fund for soldiers back from Afghanistan and other veterans in Wales.
In all, 11 teams travelled the anti-clockwise route around the Welsh coast, with more than 2,000 people signing up for different parts of the walk.
Each leg of the walk was in memory of one of the fallen.
On Saturday, the walk was led by Major John Thorneloe, father of Welsh Guard commander Lt Col Rupert Thornloe, who was killed in Helmand in 2009.
Related Internet Links
The BBC is not responsible for the content of external sites.