First Cenotaph march for WW2 soldier Dillwyn Thomas, 88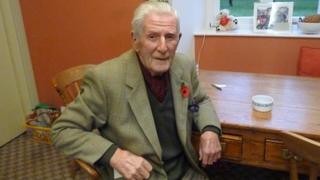 An 88-year-old Bridgend farmer whose secret World War Two guerilla force did not officially exist has spoken of his pride at being asked to march to the Cenotaph for the first time on Remembrance Sunday.
Dillwyn Thomas was just 18 when he was taken aside during a Home Guard drill and was asked to become part of an undercover unit which would have been the final line of defence in the event of a German invasion.
The Coleshill Auxiliaries were Prime Minister Winston Churchill's own invention, and were named after the Oxfordshire base where training took place.
Nicknamed The Bomb and Dagger Unit, they trained in explosives, living off the land, and learning to kill silently at night.
Last line of defence
Yet by day Dillwyn remained a farmer's son, ostensibly at home because he was in a reserved profession.
"It was the perfect cover really - I didn't get asked any awkward questions because everyone knew how important farming was to the war effort.
"I was taken at night in an army car. Of course there were no road signs during the war in case of German invasion, and so I didn't realise until years later that I'd actually trained in a base in Oxfordshire.
"In a boarded-up house in pitch-black, I was asked if I wanted to sign the Official Secrets Act or get back in the car and go home.
"It was drummed into us that the secrecy wasn't just for our benefit, but for our loved ones as well. Because if the Germans had taken over and we'd headed into the hills, then they could have been tortured for information about us if word had got around."
The confidential nature of his service has meant that hitherto Dillwyn and others like him have been omitted from all official commemorations.
But that is not something which has ever bothered Dillwyn.
"Don't get me wrong, I'm honoured to be asked, but it's not something I'd ever say I've missed.
"I just accepted that being anonymous was part of the deal. After the war, I'd just got so used to keeping secrets that it didn't even dawn on me to tell my own family what I'd done for another thirty or so years."
'Play dirty'
Dillwyn was recommended for the Bomb and Daggers after excelling in the Officer Cadet Corps at Llandovery College.
"I'm not blowing my own trumpet here, it was the way we were trained, but we were the most ruthless, vicious troops in the whole of the army. We were trained to slit a German's throat soon as look at him," he said.
"Sounds barbaric I know, but if the worst had come to the worst, the few thousand of us dotted around the country would have been all there was to base British hopes on, so we needed to be able to play dirty."
His local knowledge as the son of Margam Estate's home farm manager was also crucial.
That stretch of the south Wales coastline was of particular importance to the plan because of the Great Western mainline, Port Talbot steelworks, Llandarcy oil refinery, Island Farm POW camp and many munitions factories.
"If the Germans had landed, and it'd looked as though they were making inroads west, we were to blow up the steelworks, oil refinery, train line, and anything else which could have been of any use to them, then lay low in the countryside.
"We weren't meant to fight the Germans head on - there were nowhere near enough of us to make a difference and we weren't sufficiently armed.
"But if we could slow up their progress, then the hope was we could have harried them with ambushes and booby-traps.
"Of course I'm delighted that it never came to that, but I must admit that there's a tiny part of me which is disappointed that I never got to test my training in battle, like all those boys who went to France."