Rhondda teens 'don't fit stereotype' says MP Chris Bryant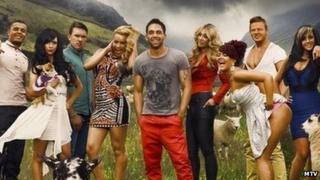 Young people from the Rhondda "don't fit the stereotype of Valleys kids", claims the area's MP.
Chris Bryant was launching the results of a survey of local sixth formers which showed they "want to be engineers not pop stars".
Schools surveyed 450 pupils on areas ranging from transport to social issues like alcohol, drugs and sex education.
Mr Bryant has previously criticised MTV reality show The Valleys, featuring people from the area, as "patronising".
The secondary schools and Coleg Morgannwg quizzed the 15-19-year-olds at five sixth forms in the constituency.
The study found 29% were in some form of employment in addition to studying, above the Wales average of 22% and the UK average, 20.3%.
Fewer teenagers (65%) expected to go on to university than the Welsh average, 78.7%, but those that did were more likely to do so in Wales, the survey found.
Engineering and IT jobs were the most popular aims for the students, followed by working in emergency services, entertainment and office work.
Launching the Rhondda Youth Survey 2013, Mr Bryant said the results showed public perceptions about young people "and especially about young people in the Rhondda, are completely out of kilter with reality".
The Labour MP added: "In many ways the young people from the Rhondda don't fit the stereotype of Valleys kids.
"They work hard, they study hard, they want to be engineers not pop stars and they think people should wait until they can afford to bring up a child before starting a family.
"The majority of those surveyed are optimistic about their futures, with many expecting to earn considerably more than the median income in sectors such as engineering and IT."
A third series of MTV reality show The Valleys, featuring characters from the Welsh valleys living in Cardiff, is to be screened early in 2013.
Mr Bryant has said the show gave an "unfair representation of the area" and helped make the area's social problems worse.