Hywel Francis to stand down as MP for Aberavon in 2015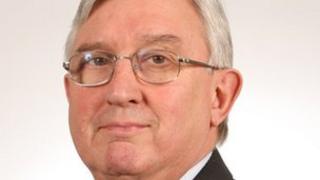 The Labour MP for Aberavon Hywel Francis has announced he is to stand down at the 2015 general election.
Dr Francis, 67, has represented the constituency since 2001.
He is currently the chair of the Joint Committee on Human Rights and two all party groups on archives and history and Down's Syndrome.
He said: "It has been a great privilege to be the local Member of Parliament and to serve the constituents of Aberavon."
In his first Parliament he successfully introduced, with the late Lord Jack Ashley, the Carers Equal Opportunities Act in 2004, often referred to at the time as Sam's Bill in memory of his son Sam who died in 1997.
Dr Francis subsequently established and chaired the All Party Parliamentary Carers' Group.
He was also previously chair of the select committee on Welsh Affairs which fostered closer working relations with the Welsh assembly.
"There have been many great challenges facing us since 2001 - and none no more than today as we face the Conservative-Liberal Democratic coalition government with its austerity programme.
"But I am hopeful for the future, with an expected Labour victory in 2015," he said.
Before entering politics, Dr Francis, the son of a mining union official, was a professor of continuing education at Swansea University, aimed at widening community access to learning.
He also thanked the electors of Aberavon, the local Labour party, his staff and family for their support.
The general secretary of his constituency party Anthony Taylor said Mr Francis has been a "powerful and passionate advocate for Aberavon".
He added: "We would like to thank Hywel for everything he has done over the last 12 years and we look forward to continuing to work with him between now and 2015."