World War One in Wales digital archive launches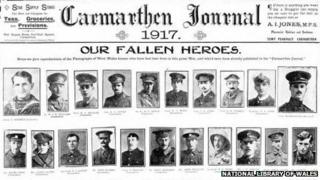 A £1m digital archive of material published in Wales during World War One is being launched.
The Welsh Experience of the First World War highlights newspapers, photographs, film and other items from sources including universities and BBC Wales.
The National Library of Wales project has digitised 220,000 documents, including telegrams informing people that their loved one had been killed.
Wales is hosting a series of projects to mark the centenary of World War One.
The digital archive will be launched by Education Minister Huw Lewis in Merthyr Tydfil.
The institutions and organisations which have contributed include Aberystwyth, Bangor, Cardiff and Swansea universities, the University of Wales Trinity St David and local records offices that are part of Archives and Records Council Wales.
Oral history recordings from the South Wales Miners' Library are also part of the archive, and BBC Wales has included more than 500 minutes of audio and audio visual material.
The national library's chief executive and librarian, Aled Gruffydd Jones, said "We feel sure that this innovative new digital resource will prove invaluable for teaching, research, and public engagement."
An exhibition opening at the launch examines the effect of the conflict on Merthyr and the south Wales valleys.
Mr Lewis said: "Digital resources can unlock our past for a variety of audiences, in Wales and around the world.
"This very special digital archive will be widely used for education and research purposes, especially as we approach the centenary of the outbreak of the First World War.
"It reveals the hidden history of World War One, demonstrating its effects on all aspects of Welsh life.
"The archive will contribute greatly to the First World War commemorations in Wales by providing a comprehensive online facility for all sectors of education, local and family history researchers."
Last month First Minister Carwyn Jones unveiled a series of educational and other projects to commemorate the centenary of WW1 in Wales.