Aberystwyth and Borth clear-up after high tides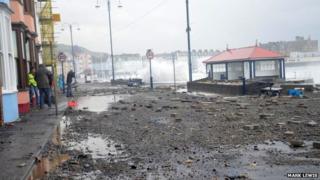 People on the coast of Wales are surveying the damage after a day of massive tidal surges.
Those living on the Aberystwyth seafront and town centre were asked to evacuate properties on Friday evening.
There was a similar request in Borth, with severe flood warnings for both areas - the highest alert warning of danger to life.
Around 100 residents spent the evening in rest centres until the huge waves had passed.
The storm brought rocks and debris onto the front and nearby streets after high tide at 21:20 GMT.
Police kept a crowd of onlookers away from the seafront, as waves crashed 6ft (1.8m) above sea level.
People living in the Crindau and Malpas areas of Newport in south Wales were also on high alert, with a severe flood warning in place for the Usk estuary throughout Friday, however the warning was downgraded as the high tide passed.
A RNLI lifeboat crew rescued a man taking photographs at the end of a wooden jetty in Aberystwyth on Saturday.
'Dangers'
The man became trapped causing several worried onlookers to dial 999.
Police and coastguard teams were unable to reach him and he was eventually pulled to safety by an RNLI volunteer who escorted him down a ladder and into the lifeboat.
A spokesperson for Aberystwyth RNLI said: "Whilst the extreme sea conditions are attracting people to the coastline, we repeat our warning to the public stay safe and to keep away from the shore line and dangerous waves.
"This incident highlights the dangers posed not only to the man taking photos, but also the danger that our volunteer crew members and other emergency services have been placed in rescuing this man."
Arriva Trains Wales said flooding was still causing significant disruption with buses replacing services between Llandudno Junction and Blaenau Ffestiniog; Machynlleth and Pwllheli; Llanelli and Carmarthen and Swansea and Pantyffynnon.
There is still some disruption on the roads, with flooding closing the A487 at Newgale in Pembrokeshire.
There was only one flood warning left in place by Natural Resources Wales at 17:40 for the Lower Dee Valley, with others stood down after high tide.
But students have been advised not to return to Aberystwyth University this weekend, with exams postponed for a week.
Rebecca Davies, pro vice-chancellor, said about 120 students had been evacuated from seafront residences in the town.
She said waves had "pretty much washed away" big sections of the promenade.
"Our accommodation is basically now acting almost as the sea wall," she said.
"They were all the houses which were on the seafront."
Natural Resources Wales (NRW) said workers were in key locations overnight and carried out repairs at defences in Fairbourne in Gwynedd and Newton near Porthcawl, Bridgend county.
Officials are continuing to monitor closely as more high winds are forecast for Monday.
However, the risk of flooding is not likely to be as severe as it was on Friday.
The NRW said although heavy rain is forecast for Sunday into Monday the risk of flooding to homes is low.
It said driving conditions could be dangerous and it is continuing to advise people to avoid going close to sea fronts.
At the height of the tide on Friday, NRW had issued almost 23,000 warnings and alerts to properties across Wales.
A NRW spokesperson said: "Our thoughts are with those who have been affected in what will be a very difficult start to the year for many. We will be working with our partners to support those communities and help them recover.
"Although the worst is over, there is further stormy weather forecast for Monday so we will be monitoring very closely. This is not predicted to be as bad but it will still make the coast a dangerous place to be."
Ceredigion Council said debris was being cleared from both Aberystywth and Borth.
Quay Parade in Aberaeron has also been cleared and re-opened.
The waves across the Welsh coast were the second tidal surge of the day, leading to widespread flooding and disruption.
David Hallows, service manager for emergency response at the Red Cross, was one of many volunteers who helped manage four rest centres setup, but later stood down, in north Wales on Friday.
There they helped administer first aid and supported ambulance service staff on call outs.
Fresh teams are available at a few hours notice over the weekend, should the weather take a turn for the worse, he said.
Ron Cant, from Carmarthenshire County Council, said the weather seemed to have calmed down along the Carmarthenshire coastline, although there was a lot of debris to be cleared.
"There are boulders all along it and it's hard to believe it, but they're the size of coal sacks and must weigh about 100 weight.
"It's quite frightening to think that people were standing in that line whilst the rangers and police were pulling them away yesterday," he said.
Damage was also caused to wooden bridges along part of Millennium coastal path at Bynea.
"They were literally picked up and thrown, and they weigh several tonnes so you can see the power of the sea was quite extraordinary," he said.
Parts of north-west Wales were also badly affected, with RNLI crews called to rescues at a caravan park in Pwllheli, and to a farmhouse at Llanbedr near Barmouth.
Pembrokeshire and Carmarthenshire also felt the full force of the early storms.
Among those rescued was a pregnant woman, and fire crews from Crymych, Newcastle Emlyn and Cardigan were using wading equipment and boats to reach homes.