Richard Parks claiming 'fastest Briton' record to reach South Pole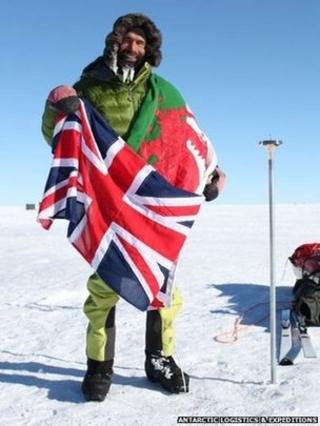 Former Wales rugby player-turned adventurer Richard Parks is claiming a record for the fastest solo, unsupported and unassisted journey to the South Pole by a Briton.
The former Wales and Newport Gwent Dragons flanker reached the South Pole at 05:24 GMT on Saturday.
The 1,150km (715 mile) journey took 29 days, 19 hours and 24 minutes.
This sets a new British record and is the second fastest recorded time in history.
Parks also became the first Welsh person to complete the challenge, and took just under 10 days off the existing British record, set by polar explorer Hannah McKeand in 2006.
After skiing a total of 366 hours and burning the calorie equivalent of two marathons a day completely alone, Parks said he was feeling weary but very happy.
"I'm exhausted," he said.
"Physically I am absolutely shattered, mentally I am frazzled, it is just a lot to take in. I have a lot of emotions bouncing around but I am happy, proud and grateful," he said.
Parks said the final few kilometres approaching the pole marker and Amundsen-Scott South Pole Station were just as tough as the previous 715 miles.
"I could see the station and I was only about 3km (1.8m) away and I literally was having to talk myself out of pitching my tent with every step, I just didn't think I could put another foot in front of the other."
Throughout his expedition the former Pontypridd RFC player has faced brutal Antarctic elements including whiteouts, wind chill and freezing temperatures, all whilst pulling a sled weighing 68.2kg (10st 7lbs).
Parks had set himself a target of 23 days to complete the feat to break Christian Eide's world record.
But poor weather conditions hampered his progress.
He was even forced to turn back and start the challenge again after three days of skiing in terrible conditions, put the whole expedition in jeopardy.
He also skied the last two days of his journey with a broken ski.
But despite the hurdles, Parks said it was all worth it when he finally reached the South Pole on Saturday morning.
"It was not quite the script that I had planned but I was full of gratitude and pride because I know what I achieved is special," he said.
In 2011, Parks achieved his world-record-breaking dream to reach seven summits and three poles in seven months in his 737 Challenge, aiming to raise £1m for Marie Curie Cancer Care.